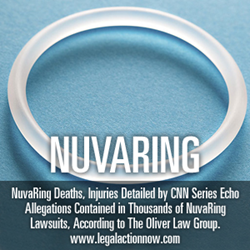 Contact the Oliver Law Group P.C. for your free NuvaRing lawsuits case review by calling toll free 800-939-7878 today or visiting www.legalactionnow.com.
Chicago, IL (PRWEB) June 04, 2014
The NuvaRing lawsuit attorneys at The Oliver Law Group note that CNN will air a series of investigative reports detailing the serious, and potentially deadly side effects, allegedly suffered by young women who have used the NuvaRing vaginal ring birth control device. According to an article which appeared in the Durango Herald on June 2, 2014, the series of broadcasts will air during Anderson360, and will feature the family of one young woman who allegedly died after suffering a blood clot brought on by NuvaRing. The young woman's family is now pursuing a NuvaRing lawsuit against Merck & Co., the manufacturer of the contraceptive ring.
[cnn.com/video/data/2.0/video/us/2014/06/01/nr-dnt-nuvaring-investigation.cnn.html , CNN June 1, 2014]
[durangoherald.com/article/20140602/NEWS01/140609932/-1/taxonomy/Parents-of-young-woman-to-appear-on-CNN-, Durango Herald, June 2, 2014]
Rick and Karen Langhart, the parents of Emily Langhart, have made it a mission to inform the public about the risks associated with NuvaRing. In addition to CNN, their daughter's story has appeared in Vanity Fair Magazine and other media outlets. The have also created a nonprofit organization, Informed Choice for Amerika (the "k" is in honor of Erika), that is working to get the word out, according to the Durango Herald.
NuvaRing is a monthly contraceptive device that is marketed by Merck & Co. as being more convenient, but just as effective and safe as oral birth control bills. According to a report that aired last month on Arizona's 3TV, the U.S. Food & Drug Administration (FDA) has received more than 1,000 reports of NuvaRing blood clots, some of which proved fatal. Yet the agency has not acted to mandate more prominent safety warnings for the product.
[azfamily.com/news/Monday--9-pm-on-3TV-Controversial-product-257730441.html, 3TV, May 6, 2014]
A number of studies have also linked NuvaRing to an increased risk of blood clots, heart attacks, strokes and death. These studies include research released by the FDA in 2011 which found a 56% increased NuvaRing blood clot risk, including a higher danger of deep vein thrombosis and pulmonary embolism, compared to oral contraceptives. In the summer of 2012, research published in both The New England Journal of Medicine and the British Medical Journal indicated that NuvaRing side effects included a higher risk of potentially deadly blood clots, as well as heart attacks and strokes.
[fda.gov/Drugs/DrugSafety/ucm277346.htm; FDA, October 27, 2011]
[nejm.org/doi/full/10.1056/NEJMoa1111840; NEJM, June 2012]
[bmj.com/content/344/bmj.e2990/rr/585117, British Medical Journal, May 2012]
Court documents indicate that more than 1,700 NuvaRing lawsuits are now pending in a federal litigation underway in U.S. District Court, Eastern District of Missouri, all of which allege use of the vaginal ring caused heart attacks, strokes, blood clots and cardiac death. (In Re NuvaRing Products Litigation, 08-md-01964) Just over 215 similar cases have been filed in New Jersey Bergen County Superior Court. Earlier this year, Merck agreed to pay $100 million to resolve the NuvaRing lawsuits pending in these proceedings. If finalized, court records indicate that the NuvaRing settlement will provide an average of $58,000 to each plaintiff. However, women who claim to have suffered the most severe injuries, as well as the families of women who allegedly died due to NuvaRing injuries, will receive higher payments.
The Oliver Law Group offers free NuvaRing lawsuit evaluations to alleged victims of NuvaRing side effects. If you or someone you love suffered a blood clot, pulmonary embolism, deep vein thrombosis, heart attack, stroke or sudden death while using NuvaRing, please visit http://www.legalactionnow.com, or call toll-FREE 1-(800) 939-7878 to learn more about your options for legal recourse.
Contact Oliver Law Group P.C. To Learn More About Filing A NuvaRing Lawsuit
Oliver Law Group P.C. is a different kind of law firm. One that focuses on the needs of the injured first. A compassionate law firm dedicated to fighting for the rights of victims and their families, and doing everything necessary to ensure those rights.
The experience of a large firm. The 1-on-1 dedication of a small firm. A reputation built on trust.
Experience. Dedication. Trust. Oliver Law Group P.C.
If you would like to learn more about filing a NuvaRing lawsuit, turn to the law firm with the Experience, Dedication, and Trust you deserve. Contact the Oliver Law Group P.C. for your free NuvaRing lawsuits case review by calling toll free 800-939-7878 today or visiting http://www.legalactionnow.com.
Contact:
The Oliver Law Group
950 W University Drive
Suite #200,
Rochester, MI 48307
(800) 939-7878