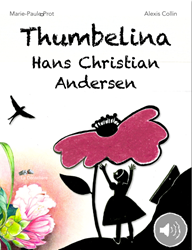 Our artists are given a share of the profits equal to that of the publishing house—we are all in it together.
Maisons-Laffitte, France (PRWEB) June 06, 2014
Little Thumbelina is only as big as your thumb! Hans Christian Andersen, the Danish author who wrote this tale in the 18th century, sent Thumbelina on many adventures. She meets toads, butterflies, a cockchafer, a mouse, a mole, a swallow, and, of course, a prince. The ability to directly interact with this magical world transports the reader to a charming imaginary land.
Illustrator Marie-Paule Prot creates an elaborate background using colored pencils and gouache and flirts with the abstract to present the reader with stunning, delicate silhouette art. In his role as sound designer, composer Alexis Collin has created a unique musical accompaniment punctuated by the bittersweet sound of the accordion.
Thumbelina
$11.99
For all ages
Download on iBooks : https://itunes.apple.com/us/book/thumbelina/id882263068?mt=11
About La Dentelliere:
La Dentellière is a new digital publishing house that was founded in France in 2014. The company makes books specifically for the tablet market. Its endeavor has three characteristics that set it apart:
1) A team of individuals works on its projects, and not only in the digital realm. The artisanal production process includes artists, authors, designers, composers, videographers, musicians and other creatives. Artists are given a share of the profits equal to that of the publishing house.
2) La Dentellière makes books specifically for the tablet market that could not exist on paper.
3) La Dentellière merges low tech with high tech.
Unique and inspired books with enduring appeal result from this collaboration. Designed by artists, they offer a sensory-satisfying multimedia tablet experience.
La Dentellière publishes children's books and is also preparing to release collections in the "Do-It-Yourself" and "Literature" segments of the market. Here as well, the artisan's perspective will be highlighted and aesthetics will be of the utmost importance. The books La Dentelliere creates for electronic devices are like finely worked lace, hence the name, which means "lace maker" in French.