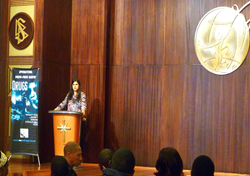 (PRWEB) June 04, 2014
Drug education and prevention workshops at the Church of Scientology of Johannesburg are providing religious leaders, businessmen and educators with tools they can use to help curb drug abuse.
Representing many different denominations and creeds, all share a common belief—that tackling this deadly epidemic is of utmost urgency. They want answers. And that was what they receive.
Church public affairs officer Shaleen Worhnitz introduces them to the Truth About Drugs, the drug education initiative supported by the Church of Scientology.
It is a very hands-on afternoon. The workshops include drilling conducting a drug education lecture, giving each attendee practical experience. They are surprised how simple and easy it is to do so, and by the end of the workshop they are confident they can put the materials to immediate use.
The Church of Scientology Johannesburg, South Africa, is an Ideal Scientology Organization. Its facilities are configured to service Scientologists in their ascent to spiritual freedom and serve as a home for the entire community—a meeting ground of cooperative effort to uplift citizens of all denominations.
Scientologists on five continents work in their communities throughout the year to empower others with the truth about drugs. The Church and its members are dedicated to eradicating drug abuse through education.
The Church of Scientology supports The Truth About Drugs initiative, one of the world's largest nongovernmental drug education and prevention campaigns.
It has been conclusively proven that when young people are provided with the truth about drugs—factual information on what drugs are and what they do—usage rates drop commensurately.
The Church of Scientology has published a brochure, Scientology: How We Help—The Truth About Drugs, Creating a Drug-Free World, to meet requests for more information about the drug education and prevention initiative it supports. To learn more or read the brochure, visit the Scientology website.
Scientology Founder L. Ron Hubbard wrote, "The planet has hit a barrier which prevents any widespread social progress—drugs and other biochemical substances. These can put people into a condition which not only prohibits and destroys physical health but which can prevent any stable advancement in mental or spiritual well-being."