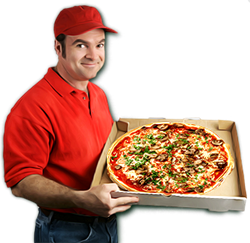 I can see when drivers are on the way back and I can distribute the deliveries better.
Needham, Mass. (PRWEB) June 05, 2014
Stores completing the pilot stage of FoodTec Solutions' DeliveryIQ are now reporting lower average delivery times and increased driver productivity. The pilot program consisted of an upgrade to FoodTec 9.0 POS as well as use of the free DeliveryIQ smart phone app by all delivery drivers. Based on the improved performance, these chains are now deploying the delivery optimization platform across all their locations.
"I can see when drivers are on the way back and I can distribute the deliveries better," says Rob Adams, manager of Marcello's. "Before, I'd send out five deliveries with a driver because he was in-store and I didn't know when the others were coming back, so I had to get them out. Now, I can send out just 2 or 3 because I know a returning driver will grab the rest. That reduces the overall average customer delivery time. Plus, because the drivers are far more efficient, I can run with less staff for the same shifts."
The DeliveryIQ product family is composed of the Driver App, the Driver Manager in the FoodTec 9.0 POS and customer-facing Online Order Tracker. Driver location and order status data from the DeliveryIQ app connect all three systems.
"Improved order bundling and pacing has always been a core FoodTec goal," says Andrew Bounas, president of FoodTec Solutions Inc. "By adding accurate driver location information, manager and expeditors now have a critical data point from which they can make better decisions."
DeliveryIQ is free to all FoodTec POS 9.0 customers. For more information, go to http://www.DeliveryIQ.com or call 866-891-7232.
About FoodTec Solutions, Inc.
FoodTec Solutions Inc., founded in 1996, develops integrated restaurant technology for all aspects of restaurant operations including POS, online ordering, labor scheduling, and inventory, loss prevention, above store reporting, marketing, loyalty and gift card solutions. The company develops hospitality software and provides hardware, installation, implementation, training, integration, consulting and a full-range of technical support services throughout the United States. Learn more by visiting http://www.foodtecsolutions.com.
Press Contact:
Arielle Bounas, FoodTec Solutions Inc., 781-453-8620, arielle(at)foodtecsolutions(dot)com