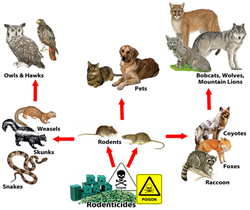 The effect on our treasured and magnificent wild predators, the unintended victims of poison baits, is especially devastating.
Chicago, IL (PRWEB) June 06, 2014
The U.S. Environmental Protection Agency (EPA) just announced that 12 popular d-CON rat and mouse poison products must cease production, beginning June 2014 (source). These products do not comply with EPA safety standards – however they will still be available for purchase through March 2015. Bird-X argues that safe, chemical-free rodent repellants are a much better alternative.
According to the EPA, all 12 products listed are sold without bait station housing – an important precaution for limiting direct access by pets, wildlife, and children. Eight of these 12 products also contain EPA-banned chemicals brodifacoum, bromadiolone, difethialone, and difenacoum. Banned only for residential sales, these ingredients were found to pose unacceptable risks to non-target wildlife.
Natural predators of rodents, including owls, hawks, eagles, foxes, coyotes, bobcats, and countless others, are common victims of these products when they eat a poisoned, but not yet dead, mouse or rat – and because poisoned rodents are more likely to be slow, such prey are more frequently caught. These particular poisons are especially dangerous because they are anticoagulants – they do not kill immediately, rather very slowly, by causing internal hemorrhage (Audubon Magazine, 2013). This means not only is it a very painful and horrific way to kill unwanted pests, it is slow and detrimental to the ecosystem at large.
Bird-X believes that discontinuing these 12 environmentally damaging products is a step in the right direction, however all available poison products, including those that are approved by the EPA, still pose real dangers to wildlife, pets, and children. They create waste that is toxic, both in production and in public landfills, which further contaminates the environment.
Bird-X has been manufacturing chemical-free pest control solutions for over 50 years, and offers rodent control options that are completely poison-free, safe to use around children and pets, harmless and humane to both the pest animals they treat and to predators higher up the food chain, and extremely eco-friendly. The Yard Gard was created to keep rodents and other pests out of yards and gardens, while the Transonic PRO was designed to keep them out of attics, garages, basements, and home interiors. Bird-X also provides a 100% organic granular solution that keeps unwanted pests away.
"With the technology and common-sense solutions available today, there's absolutely no reason to use such harmful products," stated Bird-X, Inc.'s Media Director Alison James. She notes, "The effect on our treasured and magnificent wild predators, the unintended victims of poison baits, is especially devastating."
Not only do green options create a safe space for families and pets, they also eliminate the need to hunt down decaying rodent bodies that can get stuck in walls, attics, and other difficult-to-access spaces. By keeping rats and mice safely away from homes in the first place, there is no need for poisons, traps, or chemicals.
Bird-X, Inc. is the leading brand of humane pest animal and bird control products worldwide since 1964, and is dedicated to protecting human health, wildlife and the environment in which we all live. The Chicago-based company manufactures a complete line of unique pest control products with an unmatched focus on quality, efficacy, and customer service.