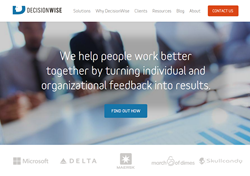 Our goal with the new redesign was first and foremost to help users have meaningful experiences with expert content.
Provo, UT (PRWEB) June 06, 2014
DecisionWise publicly released a completely redesigned corporate website with an optimized user experience in an effort to facilitate interactions with educational and instructional content, including webinars, white papers, published articles, blog posts and case studies.
"As our content offerings have grown over the years, the previous website became less effective at delivering information to our visitors," said DecisionWise Director of Products and Marketing, Charles Rogel. "Before, a user would sift through a list of loosely sorted content, then fill out a form to access each individual resource. Now our site provides multiple levels of filtering—including a dynamic search bar—and requires only a single form submission to access all unique content pieces," Rogel continued.
During the past year, DecisionWise has released a number of articles, whitepapers, blogs and other related content. The new website will house this content, and will allow easier access to the company's research on employee engagement, 360-degree feedback, and industrial psychology.
In addition to an optimized resources section, the company's new website flaunts a modern, refreshed style, additional content, a responsive design for mobile devices, more intuitive site-wide navigation and refined brand identity.
"For years we have provided more high-quality content than any other company in our space," said DecisionWise Chief Executive Officer, Dr. Tracy Maylett. "Our goal with the new redesign was first and foremost to help users have meaningful experiences with this content. Refined branding and company image is a byproduct of all initiatives surrounding the design and launch of the new site."
DecisionWise, Inc. is a management consulting firm specializing in leadership and organization development using assessments, feedback, coaching and training. DecisionWise services include employee engagement surveys, 360-degree feedback, leadership coaching and organization development. DecisionWise was founded in 1996 and is privately held. With offices in the United States and The Netherlands, DecisionWise operates in over 70 countries and conducts surveys in over 30 languages.