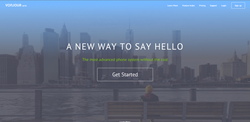 (PRWEB) June 05, 2014
Today Vonjour.com announced the release of its zero cost business phone system in Tallahassee. The company has made its service available for organizations and businesses across the greater Tallahassee region.
This release is just one more step the company is taking to make enterprise unified communications more ubiquitous and disrupt the telecom space.
"The telecom industry has made enterprise phone services prohibitively expensive for most organizations," says CEO Daniel Tawfik. "Vonjour allows any organization to have a professional sounding and big business phone system without any of price barriers and difficulties of configuring hardware devices."
Tallahassee's progress in increasing bandwidth and bringing technological innovation made it an ideal location for its new initiative.
"Tallahassee has great economic potential and untapped infrastructure resources," says Tawfik. "Mayor John Marks' digital canopy infrastructure allows companies like Vonjour to stream data easily and cost effectively without the highest quality of service."
Vonjour is the future of disruptive telecommunications, providing a zero cost, flexible and secure phone system to organizations of all size. Any organization, from startup to enterprise, can have their own enterprise level phone system.
Vonjour offers the first ever zero cost enterprise phone service. The system includes toll free and local phone numbers, unlimited extensions and call groups, a virtual receptionist and auto attendant advanced call routing, faxing, conferencing, and analytics.
Businesses previously had to turn to costly on-site and hosted PBX solutions. Vonjour comes equipped with all the features of a costly Fortune 500 call center solution, but with more value added features to allow businesses to be more responsive to their customer's needs.
Vonjour plans a more expansive offering of customer support tools in the fall and promises to be the most sophisticated business communications platform in the world.
To learn more about Vonjour's business phone solution and customer support platform, visit http://www.vonjour.com and sign up for an account.
About Vonjour: Vonjour is a Santa Monica based company with a mission of being the center of all customer conversations. We provide a seamless and light weight solution for an entire company to connect to its customers, while providing an unparalleled view of what customers are saying.