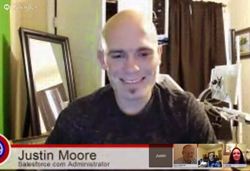 To get back into the civilian workforce I needed different skills,
Washington, D.C. (PRWEB) June 05, 2014
The Veterans Workshop is proud to announce the successful completion of the Salesforce.com Administrator Certification by, Justine Moore, US Army Infantry, Operation Iraqi Freedom, 2000 -2004.
"I never considered myself a technical person," stated Moore. "However, working with my Vocational Rehabilitation Counselor, Theisa Cabo, we found this computer training opportunity through the Veterans Workshop. To get back into the civilian workforce I needed different skills, and the training was a perfect fit. Now that I'm certified as a Salesforce.com administrator, I'm considering getting my advanced certification or possibly computer programming, the career growth and opportunities are excellent!"
"The Veterans Workshop training program would not be a success without the support of our technical partners like Salesforce.com," said Hilary Snyder, Veterans Workshop program manager. "Our mission is to provide opportunities and find corporate partners who share our vision and give back to the men and women who gave so much for our country."
About Veterans Workshop: The Veterans Workshop (VW) is a 501(c)(3) veteran operated non-profit organization. The organization's innovative online job training program through the Veterans Vocational Technical Institute are designed specifically to meet the needs of disabled veterans. The organization also raises funds for service and rehabilitation work in connection with the US Department of Veterans Affairs and other corporate technology partners. Learn more at vetsworkshop.org.
# # #
For Additional Information
Contact: Hilary Snyder, Veterans Workshop
Tel: 410-928-4658
Email: Hilary(at)veteransworkshop(dot)org