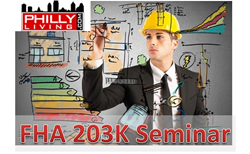 Our Investment Seminar Series is designed to help our clients accomplish their real estate investment goals, explained Noah Ostroff, CEO of PhillyLiving.com
Philadelphia, PA (PRWEB) June 05, 2014
Philadelphia real estate is a prime market for investors. Positive cash flow oppotunities attract buyers from as far away as New York.
PhillyLiving.com continues its 2014 Investment Seminar Series on Wednesday evening, unlocking the msyteries of the FHA 203K loan process. Often misunderstood, the strategic advantages of using the 203K loan allow buyers to minimize out of pocket cash, finance the purchase and renovation at the same time, and compete against cash buyers on foreclosures and distressed properties.
"Often first time homebuyers have long-term goals to build wealth through investing in cash flow investment properties. An exciting way to ramp up that strategy is to purchase a multi-unit property that can be a primary residence with rental income to not only cover the mortgage but create cash flow. The 203K loan opens doors to compete against cash buyers, renovate before moving in and create instant equity, becoming a strategic tool to help compete with cash investors," explained Susanna Kunkel, Realtor with PhillyLiving.com.
Wednesday's Seminar will reveal inside tips and strategies for success. There are many "urban myths" about the 203K loan. Done properly with the right team, it can be a winning tool in a competitive market.
Jeff Onofrio, Director of Renovation Lending, Annie Mac Home Loans along with Steven De Paul, Certified HUD Inspector will be guest speakers and available to answer questions.
Seminar is Wednesday, June 11th from 6-7:00 pm at Coldwell Banker Preferred, 223-25 Market Street.