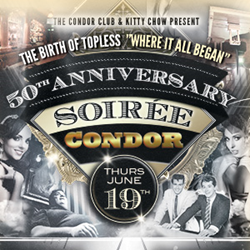 San Francisco, CA (PRWEB) June 06, 2014
When Condor Club opened in 1964, topless clubs were unheard of, but the ground-breaking entertainment quickly became a popular phenomenon thanks to the San Francisco gentleman's club. Today, Condor Club is proud to be the original topless club and is now celebrating their 50th anniversary.
To commemorate this momentous occasion, Condor Club is throwing a 50th Anniversary Soiree, complete with exciting entertainment, drinks, hors d'oeuvres and more. The entertainment stars D'Arcy Drollinger as Carol Doda and also features Los Shimmy Shakers, Roxanne Redmeat, Sugar Cane Jane, Mickey Finn * Roxy Reve, Szandora Lavey, Alfred Stern * Mr. Lucky, Princess Pandora and Molotov & Dixie D'lish.
"We're proud to have served the San Francisco community for so many years," said Axel Sang, director of marketing for BSC Management. "Condor Club is where it all began and we're bringing it back with a party that's sure to be one for the history books."
Condor Club is going back to its roots with this anniversary soiree. To create an authentic atmosphere, period dress is encouraged for all attendees. The soiree will take place from 8 p.m. to 2 a.m. Thursday, June 19 at Condor Club. Those interested in attending must RSVP ahead of time to receive the complimentary cocktails and hors d'oeuvres offered between 8-10 p.m. Visit http://condorsf.com/50th-anniversary-soiree/ to do so!
Condor Club is looking forward to celebrating its past at this soiree and would like to thank the San Francisco community for supporting the club for the last 50 years.
About Us: Condor is San Francisco's original gentleman's club. In 1964, they became the first topless club in the United States. Since then, they have provided the Bay Area with quality adult entertainment and superior service. The club features a VIP lounge, champagne rooms, bottle service, topless dancing and concierge services, all in an effort to provide their customers with a special and exclusive experience. Everyone is sure to have a good time at Condor. With live music, a full bar and restaurant and topless adult entertainment, there's no better gentleman's club around. Condor Gentleman's Club is open 6 p.m. – 2 a.m. Monday through Wednesday and 12 p.m. – 2 a.m. Thursday to Sunday.