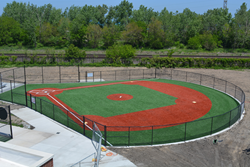 We feel like we've got a great product that is durable, requires less maintenance, and will elevate the performance of our kids.
Whiting, Indiana (PRWEB) June 05, 2014
Tee ballers in Whiting will now feel like big leaguers as they take to their new Shaw Sports Turf field at the Whiting Municipal Sports Complex.
"The addition of the Shaw Sports Turf field has certainly added a level of pizzazz to a field that did not previously get a lot of attention," said Mayor Joe Stahura. "It also adds a level of professionalism. Since the field has been in, it's added a great deal of excitement and participation in our tee ball games."
The teams previously played on the little league field, but can now call the new field their own. The field was installed by All Sports Enterprises of Exton, Pennsylvania.
"This is the kind of project we love working on," said Joe Ferry, President of All Sport. "An all new generation of ball players will get their start on this great Shaw Sports Turf surface."
Mayor Stahura also said the field will provide the benefit of being a consistent surface that can accommodate a great deal of play without the level of maintenance required by natural grass fields.
"We feel like we've got a great product that is durable, requires less maintenance, and will elevate the performance of our kids," said Stahura.
The City of Whiting chose to install Shaw Sports Turf's TruHop system.
"We are honored the City of Whiting chose Shaw Sports Turf," said Scott Schulz, Territory Manager for Shaw Sports Turf. "We are proud to partner with the city to make such a huge difference in the lives of kids."
Designed specifically for baseball, TruHop mirrors the real thing in terms of playability and performance, yet provides durability that natural grass just can't rival. The system can be engineered with various pile heights and infill ratios to fit each performance area of the field, including the infield, outfield, warning track, base path and foul lines.
The product features a sand/rubber infill combination that creates a fast, dense, firm surface. It also provides a combination of monofilament fiber and Tapeslide XP slit film to provide the best fiber combination.
TruHop reduces reduces infill flyout and migration and has a three layer backing that provides superior dimensional stability and tuft bind. Overall, the system offers better ball roll, durability and aesthetics.
With the TruHop system, Shaw Sports Turf enlisted the help of former Atlanta Braves pitcher John Smoltz to help design the product to accommodate baseball.
About Shaw Sports Turf
A wholly-owned subsidiary of Berkshire Hathaway Inc., Shaw Industries is a full flooring provider to the residential and commercial markets. Shaw supplies carpet, hardwood, laminate, resilient, and tile/ stone flooring products, as well as synthetic turf. Shaw Sports Turf is one of the leading synthetic turf companies in North America and has represented quality and innovation for more than two decades with over 1,500 successful installations, including an impressive list of high-profile field installations. For more information please visit http://www.shawsportsturf.com, call 866-703-4004 or find us on Facebook.