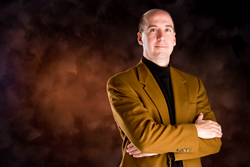 Knowledge in the healthcare industry is becoming obsolete at an ever accelerating pace. And paradoxically, unlearning will be one of the keys it's future.
Scottsdale, AZ (PRWEB) June 05, 2014
Jack Uldrich, renowned futurist, sought-after business speaker, and bestselling author has been invited to speak to the Scottsdale Lincoln Health Network this Saturday, June 7th in Sedona, Arizona. Uldrich, will deliver his keynote address, "Why the Future of Healthcare Demands Unlearning."
Uldrich who has been hailed as the "Chief Unlearning Officer" at the Chief Learning Officer Summit held in Mumbai, India, has written, "The future is accelerating. The rate of change is itself changing and becoming ever faster. One of the consequences of this state of affairs is that knowledge is becoming obsolete at an ever accelerating pace. This leads to a paradox: Education is becoming both less and more important at the same time." Precisely how unlearning applies to the healthcare field is what Uldrich will address in Sedona.
Uldrich, who has been a keynote speaker for the American Medical Association, United Healthcare, Fairview Hospitals, and St. Jude Medical is noted for his ability to deliver stimulating, new perspectives on competitive advantage, organizational change, and transformational leadership, while helping businesses to adapt.
His keynotes on topics such as future trends, emerging technologies, innovations, change management, leadership and unlearning have been noted as, "captivating" and "thought provoking." He is highly regarded for his unique ability to present multifaceted information in an entertaining and understandable manner that leave his audiences reflecting on his topics long afterwards. A sample of some of Uldrich's thoughts on health care can be viewed here.
In addition to healthcare, Uldrich is considered to be an expert futurist in a variety of areas. He has served as an advisor to Fortune 1000 companies and has spoken to hundreds of businesses and organizations, including General Electric, General Mills, the Young Presidents Organization (YPO), Pfizer, Fiatech, Invitrogen, The Million Dollar Round Table, AG Schering, Imation,Touchstone Energy, the Insurance Service Organization, the National Kitchen & Bath Association, the National Paint & Coatings Association and the European Association for International Education in Istanbul.
Parties interested in learning more about Jack Uldrich, his books, his daily blog or his speaking availability are encouraged to visit his website at: http://www.jumpthecurve.net. Media wishing to know more about the event or interviewing Jack can contact Amy Tomczyk at (651) 343.0660.