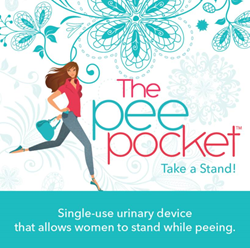 My daughter and I can't imagine traveling without a PeePocket anymore!
New York, NY (PRWEB) June 11, 2014
The Pee Pocket™ female urinary device is perfect for athletes, travelers, the elderly, disabled, pregnancy, parents of young girls, post-surgery patients – any woman who might have to go while on the go!
Active women who enjoy the outdoors, sports, music festivals, camping, hiking, biking, traveling, etc...
Sketchy bathroom -- or nonexistent ones! -- are no match for this handy device. It fits easily into a purse or backpack and is a must-have for germ-conscious women who don't have access to a sit-down toilet or who don't want to use unfit facilities.
The Pee Pocket™ is a single use, waterproof disposable funnel allowing women to pee while standing. Its convenient tri-fold patented design easily fits in purse or pocket and includes a hygienic tissue wipe and disposable bag. Use without getting hands or other body parts wet.
The Pee Pocket™ comes in singles, packs of three, and in packages of 20 for women and men in a assisted living.
Being introduced Thursday June 12, 2014 in Las Vegas, NV at the Female Urology and Urogynecology Symposium 2014, (FUUS) in Las Vegas, Nevada.
The Pee Pocket™ was developed by a team of doctors who were fed up with dirty and unsanitary public bathrooms for their daughters and wives. These heart surgeons developed a single use disposable biodegradable device so all woman everywhere could finally take a stand and avoid un-sanitary conditions and the potential for skin infections.