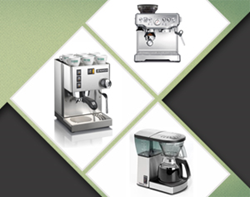 Los Angeles, CA (PRWEB) June 05, 2014
Although it goes without saying that many people today consider themselves to be coffee connoisseurs, reproducing coffee shop quality results at home can often be easier said than done. Experts are saying that up and coming espresso machine review site EspressoMachineTips.com could change the way people make coffee-related purchasing decisions. Recently, they have just published a list of top 5 best espresso machines based on their comprehensive research.
It's no secret to anyone that consumers these days are relying more and more on product reviews from others consumers when it comes to purchasing decisions. This is increasingly becoming the case when it comes to specialty items like espresso machines. However, these days it can be difficult to tell which of the many reviews out there can be trusted thanks to the growing prevalence of sponsored blog posts and paid endorsements.
EspressMachineTips.com was founded by a real life coffee lover for the purpose of helping those in the market for a new espresso machine find exactly the right option for them through the power of honest, appealing reviews. It features a carefully curated collection of thorough, 100% honest reviews of the hottest espresso and coffee machines out there on the market. All review articles are guaranteed to be honest, unbiased, and useful in every possible way.
According to site founder and manager Justin, EspressoMachineTips.com has big plans for the services it will be offering coffee lovers in the near future. At present, the site features a number of high quality reviews for some of the latest and most talked about machines on the market including but not limited to the Barista Express from Breville, the Pixie Espresso Maker by Nespresso, and the 15 Bar Pump Espresso from De'Longhi. However, fun features such as top lists, maintenance tips, and other valuable resources will soon be making an appearance as well.
Ratings and scores assigned to reviewed coffee and espresso machines are decided via a discriminating multi-factor system. Featured machines are evaluated according to grinding capability, frothing capability, water storage, and more. Even often overlooked factors like aesthetics and ease of storage are considered. Machines are then rated on an overall basis according to a familiar five-star system, the better to help site visitors make a decision.
Those interested in more information on the website itself or in any of the espresso machines reviewed are invited and encouraged to visit EspressoMachineTips.com for more information. For questions and comments, e-mail info(at)espressomachinetips(dot)com or submit an inquiry or comment via the included comment form.
Website: http://www.espressomachinetips.com/