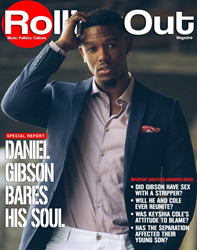 I take that responsibility; I do.
Atlanta, GA (PRWEB) June 05, 2014
Daniel Gibson is at a crossroad. He knows it. And so does the rest of the world.
So pivotal are his next steps that they could affect everything: his marriage, his family, even his redemption. But let's take it back a few months.
When the rumors began to circulate there was possible trouble brewing in the marriage between Gibson and R&B songstress Keyshia Cole, not a word was uttered by Gibson's camp. At the time, his silence was viewed as an indication that he was above the fray and wouldn't be responding to every little rumor floating around on the Internet. After all, it was nothing more than a little rumor, right?
In this week's issue of rolling out, celebrity photojournalist DeWayne Rogers delves into Gibson's personal life asking:

Did he have sex with a stripper?
Will he and Keyshia Cole ever reunite?
Was Keyshia Cole's attitude to blame?
How has the separation has affected their son?
"Nothing is perfect — and nobody is perfect," Gibson professes. "I take that responsibility — I do."
Visit rollingout.com to read the interview in its entirety. Be sure to check out the exclusive photo shoot and video footage with celebrity photographer DeWayne Rogers.
About rolling out Magazine:
Rolling out, the nation's largest free urban weekly, is a digital and print magazine that focuses on the black experience in response to entertainment, politics, fashion, culture, sports and lifestyle points of interest. Headquartered in Atlanta, rolling out is positioned as the voice for the African American experience, using its newspaper as a platform in the marketplace to express urgency for education reform, and to document entrepreneurial endeavors and other relevant issues in the Diaspora. For information on rolling out, please log on to rollingout.com.