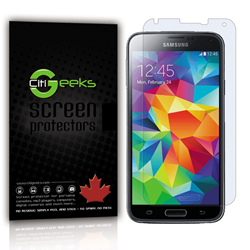 With the tools provided the installation is aligned perfectly and is dust free
Oakville, Ontario (PRWEB) June 19, 2014
CitiGeeks, an online company that develops and sells screen protectors for smart phones and tablets, has designed perfect easy to use kit that make applying a screen protector with creating a bubbling effective simple and affordable.
In June 2014, CitiGeeks launched their revolutionary kit which enables anyone to easily align and apply a screen protector to their smart phone or tablet of any design or model, without any air bubbles from getting caught underneath the plastic. This kit is included with every purchase of CitiGeeks screen protectors at http://www.citigeeks.com
Many customers were contacting CitiGeeks, asking exactly how their state-of-the-art screen protectors could be applied to their phones without air bubbles being created. They truly enjoyed the screen protectors, especially as they did not interfere with the touch screen capabilities of their smart phones, but found the bubbles frustrating. CitiGeeks designers immediately began addressing that problem, and have now created a solution which is cheap to buy, and very easy to use. CitiGeeks have even created a video tutorial to aid with the application: http://www.citigeeks.com/installation.
"The release of the sticker kit has been met with relief by many customers that have struggled to maintain their smart phones and keep them in a new condition. Customers have stated that the new kit contains "super instructions for a bubble free installation," and "Once on, invisible, didn't affect user capability at all." The design has also been praised: "It is obvious that a lot of thought went into developing this product." But the most common comment that CitiGeeks has received runs along the lines of: "With the tools provided the installation is aligned perfectly and is dust free."
The new screen protector application kit created by CitiGeeks now allows all smart phone users to care for their phones with ease.
About CitiGeeks:
CitiGeeks is a company that is based in Canada, but serves the majority of the world's population through their online service. As well as designing screen protectors, CitiGeeks have also developed anti-glare protectors. All manner of different brands are catered for by CitiGeeks, including Apple, Samsung, and BlackBerry.
CitiGeeks was founded on 30th September, 2007. The aim of the company was to develop and market easy to use and affordable screen protectors for a variety of electronic equipment. Since then, the design team at CitiGeeks has progressed in leaps and bounds, and after testing over thirty different products, they have found the perfect one. These can be purchased from http://www.citigeeks.com. CitiGeeks are now the world's leading producer of screen protectors.