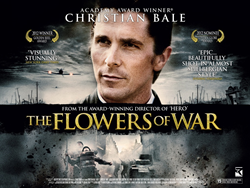 London (PRWEB) June 12, 2014
Filmsy.com, a trusted movie reviews site, has just given a positive review of the well known Chinese film 'The Flowers of War'. The movie directed by Zhang Yimou starred English Actor Christian Bale who played the role of a mortician by the name of John Miller.
Based on a novel written by a Chinese-American Geling Yan entitled 13 Flowers of Nanjing, the film produced with a budget of $95 million and released in 2011 received rave reviews early on and won a number of awards from different organizations. Filmsy's review is simple and straightforward and enables readers as well as curious movie fans to easily understand the plot and the message behind the movie that focused on the invasion of China by the Japanese Imperial Army. The Second World War may have caused so much tragedy to China notably Nanking but good and heroic acts also came out of it.
The team of reviewers behind Filmsy.com wants to make people understand that not every war showcases evil. In fact, war can make heroes in some people similar to the film's lead character John Miller.
Additionally, the movie review did not miss out on the fact that despite Japan's occupation of China claiming so many lives, the Japanese soldiers, particularly its leader, was still sympathetic with the plight of the school girls hiding inside the convent. It should be noted that the head of the Japanese military offered to station some of his men outside the convent to protect the young ladies seeking refuge there.
The film was actually released days after China marked the 74th anniversary of the Nanking massacre and became the top earning Chinese movie in the same year. It earned a whopping $70 million within two weeks of it release. To date it is the only modern Nanking masscare movie.
Filmsy's review of The Flowers of War came at a time when China and Japan are in conflict due to certain political issues. One of them pertains to China's accusation that the Nanking massacre in 1937 was caused by the Japanese Imperial Army.
About Filmsy.com
Filmsy.com gives objective reviews of the latest box office and disc releases. It covers not only newly released movies but as well as the classics from the past. Filmsy has a team of movie buffs who makes the honest and fair reviews.
The people behind this site acknowledge the fact that millions of dollars are spent by producers in creating films in various genres. Unfortunately, they pointed out, not every film can earn their rave reviews despite the huge budget and A-list stars.