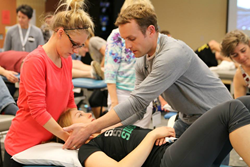 (PRWEB) June 05, 2014
Evidence In Motion (EIM) held their fourth annual Manipalooza on May 17-19th at the University of Colorado - Denver. Manipalooza is a 3-day festival of hands on learning in manipulation, soft tissue techniques, pain management strategies, sports physical therapy, and practice management for physical therapists.
UC Denver PT student Jordan Allison kicked off Saturday's Group MOSH session with an improv rap, setting the tone for a fun and exciting weekend. Presentation topics throughout the course of the weekend included Deliberate Practice - Taking Your Skills From Good to Great, Manual Therapy of the Foot and Ankle, Neuromuscular Intervention for Chronic Ankle Instability, Time Management and the Illusion of Time, Advanced Exercise as an Adjunct to Physical Therapy, and Career Development - Developing Yours and Theirs.
Throughout the course of the event, the record breaking 105 participants learned the most cutting-edge techniques from experts in the physical therapy field. This year's faculty included both national and international thought leaders in the profession, as well as respected faculty from across the country. Manipalooza 2014 faculty include:
ο Dr. Andrew Bennett, PT, DPT, OCS, FAAOMPT
ο Dr. Larry Benz, DPT, MBA, OCS
ο Dr. David Browder, DPT, OCS
ο Dr. Tim Fearon, PT, DPT, FAAOMPT
ο Dr. Tim Flynn, PT, PhD, OCS, FAAOMPT
ο Dr. Paul Mintken, PT, DPT
ο Dr. Teresa Schuemann, PT, DPT, SCS, ATC
ο Dr. Daphne Scott, PT, DSc
ο Dr. Britt Smith, PT, DPT, MS, OCS, FAAOMPT
ο Dr. Eric Robertson, PT, DPT, OCS, FAAOMPT
ο Dr. Casey Unverzagt, PT, DPT, OCS, SCS, CSCS
ο Dr. Mike Walker, PT, DSc
ο Dr. Julie Whitman, PT, DSc
The distinguished group of presenting faculty from EIM has received more than 95 research grants, totaling over $10.5 million. EIM faculty members have also taught more than 220 university level courses, founded more than forty different business organizations, and held appointed positions in more than 40 state and 115 national and international professional associations. The group has received more than 25 teaching and 65 research awards.
In addition to the three day festival, EIM also recognized their past program graduates from 2010-2014 during a Graduation Recognition Ceremony on Saturday evening. Guest Speaker Dr. Flynn addressed the graduates while Dr. Childs announced the names of each graduate in attendance as they received their diploma from their respective Program Director. Both family and friends of the graduates and Manipalooza attendees were invited to attend. Comedic entertainment followed the recognition ceremony performed by EIM faculty, Drs. Scott and Flynn.
For more information on Manipalooza 2014 and to stay tuned for details on Manipalooza 2015, please visit http://www.manipalooza.com or http://www.evidenceinmotion.com.
About Evidence In Motion (EIM):
Evidence in Motion (EIM) is an education and consultation company whose sole reason of existence is to elevate the physical therapy profession and the role of physical therapists in healthcare delivery. A strong dedication to fostering the creation and assimilation of an evidence-based practice culture within the physical therapy profession is a cornerstone of Evidence In Motion's mission. They have put in place evidence-based practice treatment pathways in many facilities and aims to promote the global sharing of information and ideas, thus advancing evidence-based physical therapy practice, research and education around the world. Evidence In Motion offers Continuing Education, Residencies, a Fellowship Program, a Musculoskeletal Transition DPT, and an Executive Program in Private Practice Management with optional Transition DPT. For more information, please visit EvidenceInMotion.com. You can also find Evidence In Motion on Facebook and Twitter, @EIMTeam.
###