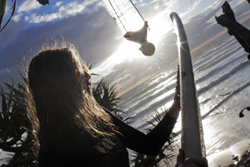 Mason says, "By backing SpaTap you will be among the first in the world to use a pocket sized water saving shower whilst re-purposing a waste material and turning it into something useful."
(PRWEB) June 07, 2014
SpaTap is an eco-friendly shower and hand washing device that attaches to plastic bottles filled with water, producing a flow-controllable, water-saving wash anywhere.
The SpaTap Company have created sleek and functional prototypes and tested them in outback Australia with great success. However, "As a start-up, our self-financing limit has been reached," says Stuart Mason, Founder of SpaTap.
Therefore, Stuart and the SpaTeam have taken their gadget to Kickstarter.com in an attempt to raise the funds they need to take their project to market.
Mr Mason remarked, "It's been amazing; we have raised 60% of our $5k goal in just four days. We've had backers from all over the world and companies approaching us for distribution deals and sales rights; the response has been awesome!"
The numerous uses of the SpaTap include: camping, surfing, sport, barbecuing, field kitchens, temporary housing, events, showering, first aid tents, trekking, fishing, on a boat, in a car, in the garden, before eating, or doing the dishes! Anywhere you need a tap, SpaTap is the portable answer.
SpaTap's unique ability to instantly transform a plastic bottle into a washing station has already gathered interest from international aid and relief agencies, as a hygiene and sanitation solution for emergency and disaster situations, in particular as a preventative measure for diarrhoea, one of the world's biggest killers.
Backers from all corners of the world have embraced this eco-friendly product from the moment of launch.
To follow their project and find out more, visit the SpaTap Kickstarter page.
For more video, images or releases, click here for the SpaTap Media Pack.