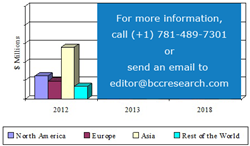 Global Market for Flash Memory to Reach $43.9 Billion in 2018
Wellesley, Mass., (PRWEB) June 05, 2014
BCC Research (http://www.bccresearch.com) reveals in its new report, FLASH MEMORY: TECHNOLOGIES AND GLOBAL MARKETS, the global market for solid-state flash memory and related technologies is expected to grow to $43.9 billion by 2018, with a five-year compound annual growth rate (CAGR) of 7.8%. Asia is the largest and fastest growing market, projected to account for more than 50% of global sales across all segments.
Flash memory is cheaper, lighter, stronger, and faster than hard disk-based memory systems. It has already been widely adapted into the mobile and enterprise computing markets and promises to be the dominant storage technology moving forward.
Asia, by far the dominant region in the global market, is expected to reach $22.4 billion in sales by 2018, with a CAGR of 8.3%. Growth in this region is being driven by a steadily improving regional economy, technological advances, and falling production prices.
North America, the second largest region in the market, is expected to grow to nearly $8.8 billion by 2018, registering a CAGR of 6.8%.
"Flash memory offers significant advantage as a storage technology, including weight, power, and space," said BCC Research semiconductor analyst Anand Joshi. "It is more expensive today in comparison with the dominant magnetic media based hard discs but the process is already starting to become comparable. This is expected to drive the demand for flash memory in enterprises."
Overall appetite of businesses to use cloud-based storage is expected to drive demand for flash. With the advent of technology, more and more data is being generated that requires storage space. Cloud has been proposed as one of the solutions to solve "big data" related problems and flash memory is expected to play a dominant role in the migration.
FLASH MEMORY: TECHNOLOGIES AND GLOBAL MARKETS provides an overview of the global market for solid-state flash memory and related technologies. It includes analyses of global market trends, with data from 2012 and 2013, projections of CAGRs through 2018, and profiles of key companies in the industry.
Editors and reporters who wish to speak with the analyst, should contact Steven Cumming at steven.cumming(at)bccresearch(dot)com.
About BCC Research
BCC Research publishes market research reports that make organizations worldwide more profitable with intelligence that drives smart business decisions. These reports cover today's major industrial and technology sectors, including emerging markets. For more than 40 years we've helped customers identify new market opportunities with accurate and reliable data and insight, including market sizing, forecasting, industry overviews, and identification of significant trends and key competitors. We partner with analysts who are experts in specific areas of industry and technology, providing unbiased measurements and assessments of global markets. Our clients include the top companies in industries around the world as well as universities, business schools, start-ups, consulting firms and investment companies. BCC Research is a unit of Eli Research LLC. Visit our website at http://www.bccresearch.com. Contact us: (+1) 781-489-7301 (U.S. Eastern time), or email information(at)bccresearch(dot)com.
Data and analysis extracted from this press release must be accompanied by a statement identifying BCC Research LLC, 49-2 Walnut Park, Wellesley, MA 02481, Telephone: (+1) 781-489-7301; Email: editor(at)bccresearch(dot)com as the source and publisher. Thank you.