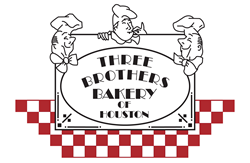 "It was an amazing feeling to see all of those customers we have gotten to know throughout the years, as well as welcome some new faces." - Robert Jucker
Houston, TX (PRWEB) June 05, 2014
On May 8, 2014, Houston fifth generation favorite, Three Brothers Bakery, celebrated its 65th anniversary. In addition to an anniversary party and the City of Houston's official proclamation of May 8 as Citywide Three Brothers Bakery Day, the bakery surprised customers with a giant 6 foot 5 inch gingerbread man, made from real gingerbread, and hosted a series of social media contests and promotions to encourage guests to visit the bakery and join in the celebrations taking place online and in stores from May 8 to June 2.
What was previously known only as a "giant-sized sweet surprise," the bakery unveiled a larger than life gingerbread man, standing over 6 feet tall. The gingerbread man has been a vision of co-owner and 5th generation baker, Bobby Jucker's for the last few years, and the 65th anniversary was the perfect occasion to unveil such a project. The gingerbread man was made from the bakery's famous gingerbread, complete with the signature sprinkles on its tummy. The gingerbread man certainly made an impression among guests, as they took "selfie" photos and inspected the giant cookie with admiration.
The May 8 birthday celebration and unveiling of the giant gingerbread man were a huge success, with the original bakery location hosting dozens of friends, guests and sweet memories. In addition to family members, city officials, the bakery's first-ever customer and media personalities, the bakery was pleased to welcome children and adults of all ages to the celebration to snap a photo with the oversized cookie. The Braeswood store was packed from wall to wall with partygoers.
"I was very happy with the turn-out at the anniversary celebration," said Bobby Jucker, bakery co-owner and fifth generation baker. "It was an amazing feeling to see all of those customers we have gotten to know throughout the years, as well as welcome some new faces. It was heartwarming to hear their memories about this place, and reminded me why being in the bakery business is so special."
A month of social media contests and promotions in all three bakery locations and across Facebook, Twitter, Pinterest and Instagram encouraged fans and followers to engage with the bakery in order to win a variety of prizes, from bagels and challah to hamentaschen and a full-sized custom cake, as the grand prize.
The series of 33 social media contests attracted a large number of fans, reaching more than 6,200 people overall. Additionally, guests and fans were encouraged to take a photo with the giant gingerbread man and post to their personal accounts, tagging the bakery and using the hashtag #3bbmemories to share their favorite moments. Overall, the campaigns allowed Three Brothers Bakery to celebrate with and give back to its loyal customers, increased awareness in Houston of this 65-year-old establishment that's full of history and sweet memories, and reminded guests of the importance of sharing the stories of the only remaining original brother, Sigmund Jucker.
For more information regarding Three Brothers Bakery, Sigmund Jucker's story or its 65th anniversary celebration and promotions, please contact Allison Huseman at 713-225-0880 or allison(at)integratepr(dot)com.
About Three Brothers Bakery
The traditions of Three Brothers Bakery began in Chrzanow, Poland circa 1825, and were preserved despite the family's concentration camp imprisonment during the Holocaust. Their miraculous liberation, and subsequent move to Houston, brought Eastern European scratch baking traditions to 4036 S. Braeswood Blvd, 12393 Kingsride Lane, and 4606 Washington Ave where the owners are now proud to call themselves "memory makers who just happen to be bakers." Perfecting the process for almost 200 years, each day the fifth generation bakers produce mostly dairy-free breads and pastries, cookies, a full line of specialty dessert cakes and pies, as well as custom birthday, special occasion, wedding and groom's cakes using only the highest quality ingredients.
The Three Brothers Bakery pecan pie was named "the best mail order pecan pie America has to offer" by Country Living magazine, bakery owner, Bobby Jucker competed in the popular 'Food Network Challenge' and has been seen on Food Network's Outrageous Food. Three Brothers won "Best Mail-Order Pies 2012" from Bon Appetit, as well as Modern Baking's "2013 Retail Bakery of the Year" and was part of The Knot's "2010-2013 Best of Weddings" and "Hall of Fame" picks. Most recently, Three Brothers Bakery was named #11 in "America's 50 Best Bakeries" by The Daily Meal, and was awarded the 2013 Jeffrey Butland Family-Owned Business of the Year by the Houston division of the U.S. Small Business Administration. Three Brothers Bakery is a certified Woman-Owned Business through the Women's Business Enterprise National Council, and a State of Texas Historically Underutilized Business.
Follow Three Brothers Bakery on Facebook and Twitter for Houston area news, information and events.