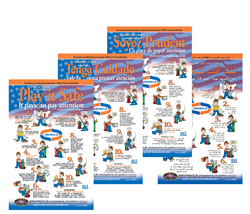 Safety Tip #4: Quickly crack and close the cylinder valves to remove dirt from the valve opening, before connecting the regulator to the cylinder.
Fort Lauderdale, Florida (PRWEB) June 05, 2014
Uniweld has been providing gas welding & cutting safety posters to the workplace for several years now, but the welding safety posters were in need of a boost. The new "Play it Safe" posters for gas welding and cutting are in full color and are featured in four languages.
Displayed in Uniweld's classic orange and blue theme, the "Play it Safe" posters are sure to grab the attention of passersby and stand out on the work floor. Uniweld's gas welding and cutting safety posters highlight that it pays to pay attention and know your safety procedures when working with this type of equipment.
The 10 informative safety tips are accompanied by illustrations of the classic Uniweld character in his all new, full color safety attire and bold text, meant to stand out to the readers.
"Play it Safe" Safety Poster Part Numbers:
•English – USP8E
•Spanish – USP8S
•French – USP8F
•Arabic – USP8A
Also available for Ameriflame Products.
Uniweld Products, Inc., "Quality tools that go to work with you."