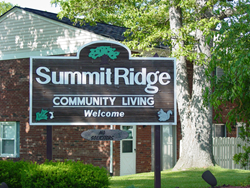 Ft. Wayne, IN (PRWEB) June 05, 2014
Higgenbotham Auctioneers International (HAI), in cooperation with BND Commercial is pleased to announce the upcoming auction of the Summit Ridge Apartment Community. This sale will take place on Friday, June 20th, 2014 at 1:00 pm EST. The auction will be held live at the Holiday Inn located at 4111 Paul Shaffer Drive, Fort Wayne, IN 46825 and is open to the public.
Comprised of 53 units in four buildings (with office), totaling 43,385±SF on 2.81± acres, this community has a track record for being an income-producing property. It boasts a ninety-two percent occupancy rate and below market rents. With multi-family cap rates compressing, this is an incredible investment opportunity.
Previews for this property will be conducted at the property, located at 5271 Eastwick Drive, Fort Wayne, IN 46815 on the following dates:
Friday, June 13th, 2014 - 1PM – 6PM EST
Saturday, June 14th, 2014 – 1PM- 4PM EST
Full terms of sale and additional property information can be found by visiting our website at http://www.higgenbotham.com, or by calling 800-257-4161. We look forward to seeing you on Auction Day.
About Higgenbotham Auctioneers International
Founded in 1959, Higgenbotham Auctioneers is headquartered in Lakeland, Florida and specializes in the sale of real estate throughout the United States by utilizing the auction method of marketing.
Higgenbotham is an alliance partner of NAI Global and enjoys continuing relationships with Fortune 500 clients such as Alcoa, International Paper, Walmart Realty, and Sinclair Oil, as well as many publicly traded and closely held companies.