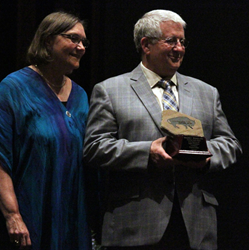 'Thank you, especially to Chuck, for having the vision to engage so meaningfully in this city, and for investing in so many lives in the process!'
Houghton, NY (PRWEB) June 05, 2014
On Thursday, May 29, more than 100 people gathered at the Asbury Hall reception room to pay tribute and to honor Charles "Chuck" Massey for his 38 year career as a teacher, administrator, and coordinator for Houghton College's Office of Urban Connections in the city of Buffalo, N.Y.
The evening included a catered dinner along with an inaugural performance by the King Center Charter School Children's Choir under the direction of Meghan Attridge, and also featured guest speakers: Stephanie Smith, director of communications and development for Jericho Road Community Health Center; Shirley Mullen, president of Houghton College; Rick Melson, vice president for advancement and external relations at Houghton College; Scott McClelland, dean of extension studies at Houghton College; and the guest of honor, Chuck Massey.
After the dinner, Melson greeted the guests and introduced Massey to give a history of both Massey's and Houghton College's involvement of service in Buffalo.
Massey began, "I am convinced that God has a wonderful sense of humor. How else would you explain a Virginia country boy accepting a teaching position in Allegany County, N.Y. and spending 33 of his 38 years with the institution living in the Buffalo metro area, the last 25 right in the heart of the city?"
Massey continued by talking about his initial relocation to Buffalo to accept the position of dean at the West Seneca campus for the Houghton College Adult Education Program, formerly known as P.A.C.E.
Massey also talked about the impact that Houghton College has had on the city of Buffalo, including its roots with the initial renovation of St. Mary of Sorrows, which was originally intended to be used as an educational outreach facility by Houghton College. As construction lagged, the mission changed and now the space is inhabited by the King Center Charter School, the first of the charter schools to open in Western N.Y. The King Center Charter School now serves 310 students in kindergarten through seventh grade. This endeavor was initially championed by Massey.
Massey also touched upon the many other programs that have either been initiated by or positively influenced as a result of Houghton's involvement in Buffalo, including Parent Child Home Programs run by The King Urban Life Center and Jericho Road, Jouney's End Tutoring Program, and a collaborative project of the King Center and the University at Buffalo Educational Opportunity Center that provides programming for neighborhood teens and adults.
Smith spoke to the crowd about Massey's involvement with Wesley ServiceCorps (WSC), in which "Massey has placed over 350 Houghton Alumni AmeriCorps members in meaningful service opportunities in Western New York, some serving even two and three terms. That's a third of a million hours of service, and counting!"
WSC members function in a multitude of service venues throughout the East and West Sides of Buffalo including: the King Center Charter School, Massachusetts Avenue Project, Peace of the City, Journey's End Refugee Services, Grant Street Neighborhood Center, Buffalo Public Schools, Westside Ministries and more.
"Every day, they [WSC members] are staffing after school programs, community centers, medical facilities, classrooms, and enhancing the capacity of Buffalo's lifeline and development services," said Smith. "They are participating in lasting impacts for domestic violence victims, ESL students, disadvantaged youth, refugees, patients, and those navigating through the complex education, health care, social services and legal systems. These WSC members are infusing life, energy and passion into the communities they serve, reaching beyond themselves and entering into the story of thousands of Buffalonians."
Smith ended by saying, "As a Houghton alumna and a transplant turned "Buffalonian," I admire the Masseys' life work, and Houghton's continued investment into a city reviving. Thank you, especially to Chuck, for having the vision to engage so meaningfully in this city, and for investing in so many lives in the process!"
McClelland spoke of the new Houghton Buffalo program initiative, an associate of arts degree program that will begin this fall at Houghton's new academic space in the historic First Presbyterian Church at One Symphony Circle in Buffalo. This program is fully accredited by Houghton College.
President Mullin finished out the evening by addressing the crowd with a call to action to ensure Houghton's involvement in Buffalo and Massey's legacy is continued. President Mullen commented, "Tonight we are announcing the creation of the Massey Scholarship Fund, in honor of Chuck Massey's commitment to the work of Houghton in Buffalo. It is our hope to raise $150,000 this spring for this fund, to put it on a sure foundation. This ongoing fund will support the operations of all of Houghton's programs in Buffalo with particular attention to providing support for the students who are admitted to the new Houghton Buffalo program."
Massey began his career as a professor at Houghton College in Houghton, N.Y. in 1976. From 1988-1998, Massey served as a founding member of the King Urban Life Center board of directors and from 1987-1990 he led the teams that developed Houghton College's Adult Education Program and Pastoral and Church Ministries Program. In 2000, He and his wife Claity wrote the application for the startup of the King Center Charter School; In 2003, Massey established the Houghton College Urban and Rural Teacher Corps Program in collaboration with Western New York AmeriCorps; in 2004, he started the Houghton College Math Camp in collaboration with Houghton professor Connie Finney; In 2007 he formed the Houghton College Office for Urban Connections; and in 2010 he helped develop Wesley ServiceCorps, a collaborative effort of Houghton College and Western New York AmeriCorps.
Massey has held the position of dean of students at Houghton College, dean of the West Seneca Campus in Buffalo, professor of education, and coordinator for the Office of Urban Connections.
Massey earned a bachelor's degree in Biblical Literature from Southern Pilgrim College in 1968 and went on to complete an M.A. and Ed.D. from the University of North Carolina at Greensboro.
For decades, Houghton College students and alumni have been engaging in positive social action throughout Buffalo and other Western New York communities. Programs such as the Jericho Road Community Health Center, Journey's End Tutoring and many others are developed, operationally supported and/or sustained by Houghton College or its alumni.