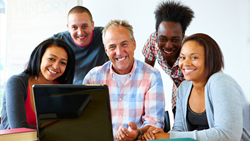 School are now presented with newer issues such as bullying, cyber bullying, harassment, plagiarism and a tendency by students to resort to the online world for help.
Belfast, Northern Ireland (PRWEB) June 05, 2014
What is the real deal on school software? Why do schools need school computer software? All are questions answered by Treze's extensive school software guide, released today.
For an example, choosing the best school computer software can be challenging. Schools order computer software for students in all grades. When students' education is at risk, schools have to do their part in locating software that is sufficient, educational and upgradeable.
While school libraries are now being called Media Centers, software companies have created technologies to help libraries manage their collections electronically and do call their products school library software. The guide states that this means it's worth the time school librarians spend looking at each option carefully to compare what different software companies offer. The future, after all, is for the digital world.
It is now a common complaint that a student is unable to produce the homework for a variety of new and unsettling reasons. As a result, schools have to find a better way of keeping track of their students and their needs in such a way that the needs do not overwhelm or obliterate the purpose of education in the first place. Educators now, according to the guide, rely on school management software as a catalyst in helping students reach their best potential academically, same goes with School administration software and School Attendance software.
As for internet protection, with all the capabilities that technology provides to users. It's very important for users to think about internet protection. Making sure a user's internet connection is secure is a must, especially when all devices now automatically store all personal and confidential information.
Problems need solutions; sometimes these problems can be solved with technology. At Treze, we are dedicated to using technology to improve the lives of people. Our current focus is online bullying and safety – providing platforms and solutions for parents, children, teachers and schools to educate and protect.
Macartan Mulligan, Co-Founder of Treze Ltd, says, "School are now presented with newer issues such as bullying, cyber bullying, harassment, plagiarism and a tendency by students to resort to the online world for help, a plethora of school software is sure to help schools provide the best education."
Based in Northern Ireland, Treze Ltd is proud to have launched in 2013 one of the most popular anti bullying websites which is http://www.nobullying.com. Treze Ltd is now focused on expanding its several websites to reach as much users as possible on topics such as the latest software as well as cyber bullying, bullying, internet harassment and online predators. The aim of the company is give users the latest resources on how to maintain a safer online existence for themselves and their loved ones.
The company works on delivering helpful content and advice in a friendly and easy to read manner and focuses on reaching as many people as possible through simple, but effective design.
Treze Ltd takes pride in the fact that it is managed by parents and people who want to make a real difference in online safety and ensure the internet is safe for all.
Treze is committed to providing excellent resources, sharing experts' advice and developing a solution that will help in the fight against cyber bullying. Its mission is to help protect people from cyber bullying, we will do this by educating and providing tools to help people protect themselves.
With its team of experts from the UK, US and Middle East who share their expertise and advice to help with School Bullying, Online and Offline Bullying, the company is anxiously working towards a day where each and every user is free from all sorts of internet, virtual and cyber bullying and harassment via continuous training, education and inspiration. Treze Ltd aims and works for an easier safer life for our children, the future's leaders and thinkers.