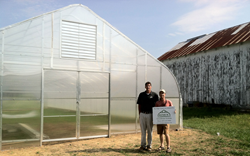 We can't wait to see how their first summer goes," said Rimol. "We're looking forward to more high tunnel donations for them in the future.
College Park, MD (PRWEB) June 10, 2014
University of Maryland Dining Services is looking to kickstart its sustainability efforts and a recent donation from Rimol Greenhouse Systems is accelerating the movement. A 30'x96' Nor'Easter greenhouse structure is set to be completed by early June and house a variety of crops this summer. The produce will contribute to a select number of dining halls across UMD's campus.
The donated greenhouse includes double poly with an IR inner layer, automated roll-up sides, gable shutters, polycarbonate end walls and double sliding doors. The Nor'Easter is currently the strongest free-standing greenhouse available on the market and designed to protect its crops against all weather conditions. UMD Coordinator of Sustainability and Wellness Allison Lilly said she originally asked for a 20'x48' high tunnel structure but was encouraged by Rimol Owner/Founder Bob Rimol to go with a bigger structure, which led to the Nor'Easter greenhouse series.
What helps make the Nor'Easter a strong and rigid structure is that for every bow there is a truss assembly, which results in unmatched strength. Also, its extended ground post option allows the greenhouse to be raised. The Nor'Easter series comes with a wind bracing kit as well.
"It's important to give graduate and undergraduate students a chance to take their classroom outdoors and understand how sustainability is achieved," said Rimol.
The greenhouse is located 15 miles north of the College Park campus at University's Upper Marlboro Research and Education Center, managed by the College of Agriculture and Natural Resources. Tomatoes, cucumbers, kale, and various lettuce types are potential items for the initial growing season. Lilly believes another 3-5 more Rimol high tunnel structures could be added within the next few years.
"I had a couple of great conversations with Bob Rimol," she said. "We shared a lot of similarities in visions and goals for this project. We see why it's important to reach out to the students on campus and to the farmers in our community. It's great that we can follow the student initiative because students have been interested in growing their own food for awhile."
Rimol's relationship with local cooperative extension agent Brian Butler and UMD Plant Sciences Professor Dr. Christopher Walsh got the wheels turning on a possible agreement. Butler had worked closely with Rimol in the past and saw the greenhouse manufacture as an "easy top choice."
Rimol's Mid-Atlantic Sales Manager Ryan Richard has been active during the Nor'Easter's construction process. The university's lead agricultural technician, Guy Kilpatric, has worked regularly with Richard in making sure the installation goes smoothly. Kilpatric will also lead a three-student team in making sure the crops come along as planned throughout the summer.
"When Allison first approached Rimol Greenhouse Systems and we discussed her ideas for the Terp Farm project, we at Rimol thought it was a no-brainer," said Richard. "The staff at University of Maryland's Dining Services Department at College Park was great to work with."
"We can't wait to see how their first summer goes and we're looking forward to more high tunnel donations for them in the future," said Rimol.
About Rimol Greenhouse Systems:
In 1994, Bob Rimol, owner of Rimol Greenhouse Systems, decided to leave his home state of New Jersey and relocate with his young family to New Hampshire. Bob began working as a greenhouse manufacturer's representative specializing in structures and systems. However, he soon realized the need to "build a better mousetrap" and set out to customize greenhouse technology in order to better suit the needs of his customers. Bob then founded Rimol Greenhouse Systems in order to provide innovative and quality greenhouse technology for local growers.
Rimol Greenhouse Systems has since developed a number of free-standing greenhouses, benches and an entire line of products to complement the greenhouse structures. Other structures include the movable The Rolling Thunder™, high tunnels, and hydroponic systems. All Rimol Greenhouses are designed to be economical, yet rugged enough to handle the harshest snow and wind conditions experienced in New England and many other regions of the country.
Today, Rimol Greenhouse Systems has become a major greenhouse manufacturing company and has developed a brand name synonymous with quality. Although the company has grown and expanded, Rimol Greenhouse Systems still ensures that it is meeting the individual needs of every customer. Rimol products can be found all across the United States.