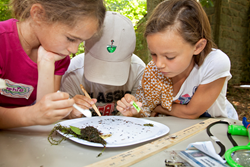 Unearth the smallest details of nature.
Wilmington, Delaware (PRWEB) June 12, 2014
Join us from 1 to 4 p.m. for fun activities like making edible dirt, fishing in the Brandywine, and helping split a stone using a feather and wedge. Activities are included in the cost of admission and free for members and children five and under.
Relive summer camp for an afternoon! Make a tornado in a bottle and upcycled can tab bracelets. Plant a seed to take home, and watch it grow. Go on a forest health scavenger hunt or relax along the Brandywine. Discover and appreciate the natural resources around us.
"EarthWorks: Resources and Nature" was created by high school students in Hagley's Youth Leadership program. The By Kids, For Kids programs continue through August 2014. Join us for "H2Oh!: The Amazing Power of Water" on July 15 and 19, and "Nation of Innovation" on August 5 and 9.
About Hagley's Youth Leadership Program
Hagley Youth Leadership Program started in 2001 as a youth volunteer program and was developed into today's youth leadership program in 2007. Currently, there are 25 high school students and 6 mentors in the program. Students work approximately ninety hours to plan, develop, and implement six public programs while learning critical 21st century life and leadership skills.
About Hagley Museum and Library
At Hagley, we invite people of all ages to investigate and experience the unfolding history of American business, technology, and innovation, and its impact on the world, from our home at the historic DuPont powder yards on the banks of the Brandywine.
Admission to the entire 235-acre museum is $14 for adults, $10 for students and senior citizens, $5 for children six to fourteen, and free for members and children five and under.
For more information, call (302) 658-2400 weekdays or visit http://www.hagley.org.
# # #