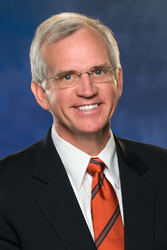 "We are absolutely delighted that Dewey has chosen to join our ranks as a member of Sherrard & Roe," Tom Sherrard, founding member of the firm, Sherrard & Roe PLC
Nashville, TN (PRWEB) June 05, 2014
The law firm of Sherrard & Roe, PLC announced today that Dewey Branstetter will join the firm as a partner.
"We are absolutely delighted that Dewey has chosen to join our ranks as a member of Sherrard & Roe," Tom Sherrard, founding member of the firm, said today. "Dewey is a most highly regarded and successful attorney, and he has also given his time and considerable talents to public service as well. We look forward to having Dewey as our colleague."
A Nashville native, Mr. Branstetter has maintained a litigation and transactional practice representing a wide range of entities and individuals for over 30 years. He currently concentrates on utility and municipal issues, employment matters, and complex litigation.
Before joining Sherrard & Roe, Mr. Branstetter served as Managing Member of Branstetter, Stranch & Jennings, PLLC, which was founded by his father, the late Cecil D. Branstetter. Though he is leaving that firm, Dewey Branstetter says his father's influence will remain with him. "I was fortunate to have an amazing man after whom I could model my own behavior. My dad was an outstanding lawyer, a dedicated member of this community, and a consummate gentleman. I will always strive to carry on his legacy of integrity and service."
Dewey Branstetter was an elected member of the Metropolitan Board of Public Education for eleven years, acting as Chairman for three. He has served on the boards of numerous other organizations such as Community Foundation of Middle Tennessee, Center for Nonprofit Management, Nashville Alliance for Public Education, and Harding Academy. He is currently Chairman of the Metropolitan Charter Revision Commission and First Vice President of the Nashville Bar Association.
Mr. Branstetter said today that he looks forward to joining Sherrard & Roe. "While I wish nothing but the best for my former firm, I am excited to be joining forces with so many lawyers I admire at Sherrard & Roe."
Founded in Nashville in 1981, Sherrard & Roe provides a broad range of legal services including corporate law, banking and finance, health care, litigation and dispute resolution, government and municipal law, real estate, taxation, and trusts and estates.
Seven of Sherrard & Roe's attorneys have been named the Nashville Business Journal's "Best of the Bar" for 2014, which identifies lawyers based on size of firm. Per capita, Sherrard & Roe had more lawyers recognized than any other firm. Over half of the firm's 33 attorneys are listed in Woodward/White's The Best Lawyers in America, and Sherrard & Roe routinely ranks among the region's top firms.
For more information, please phone (615) 742-4200 or visit http://www.sherrardroe.com
Contact: Keel Hunt 615.321.3110 / keel(at)tsgnashville(dot)com
-end-