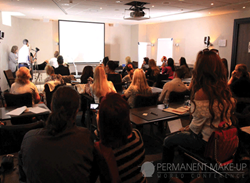 Orlando, FL (PRWEB) June 09, 2014
Nouveau Contour USA (http://www.nouveaucontourusa.com) is proud to announce its sponsorship of the Permanent Make-Up World Conference (PMUWC) August 23-25, 2014 at the Rosen Shingle Creek Resort in Orlando, FL. This year's conference will offer attendees the latest advancements and developments in permanent make up from the world's best instructors and give participants the opportunity to network with their peers and other industry professionals.
The Permanent Make-Up World Conference is an organization devoted to all national and international permanent makeup professionals, irrespective of the brand one works with. The annual conference is designed to help both beginners and experienced permanent make up technicians; placing them in an exciting and informative educational environment. PMUWC's main objective is to promote knowledge, strengthen talents and help to expand the permanent make-up business with innovative educational forums.
During the two-day conference, leading experts will provide a high standard of education with informative presentations. Attendees are allowed to select and coordinate their own personalized conference program with topics that will not only be of interest but benefit their businesses as well. Those attending will be able to choose from a wide range of interesting sector-related themes such as:

Corrective Make-up Art & Micropigmentation
Cleft Lips & Micropigmentation
Boosting your Business with Social Media
Burn Victims & Micropigmentation
Pigments, Past, Present & Future
Know your Needle
Ageless Lips
Demonstrations include:

Duo Lips – Red on White
Fashion Powder Brows
Volume Shading the Eyelids
Dermatude Meta Therapy
Natural Tattoo/Permanent Makeup Removal
Registration:
Those interested in attending may register until August 10, 2014 by visiting Nouveau Contour's website http://www.nouveaucontourusa.com. The cost for the 2-day conference is $499.00 (hotel & air fare not included).
For additional information visit: http://www.nouveaucontourusa.com.