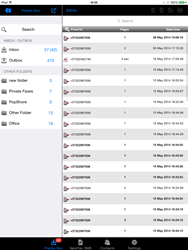 (PRWEB) June 07, 2014
Popfax built Popcompanion app for iOS to bring a modern faxing experience to businesses and to help professionals stay connected to their colleagues and clients from anywhere, anytime. Popfax advances this vision and introduces new manageability, mobility, security, user experience and networking capabilities – with the goal of offering customers a powerful iOS-fax designed for today's modern businesses.
Below is a list of some of the new and updated features in Popcompanion 1.7 with regard to IOS User scenarios, easy management of Popfax account, enhanced performance, mobility and security.
Improved Popfax Box user interface
The Inbox/Outbox menu, Folders and Search field are displayed in the left part of the new Popcompanion user interface – for easy access to main Popfax box sections.
Contact details displayed in the Inbox/Outbox
The names of contacts (if used during faxing process) are displayed along with numbers in the list of sent and received faxes, as well as for SMS messages.
Advanced search
The updated Popcompanion allows to search faxes and SMS messages in folders as well as to make global search requests in the account: by content, contact name or contact number.
Search results management
The documents from search requests can be deleted, moved to other folders, forwarded directly in the search interface.
Print faxes through Apple Wi-Fi printers
The Wi-Fi Direct Printing allows to print faxes to Apple Wi-Fi printers without adding additional drivers or software on the Apple device, forming a peer-to-peer network between the device and the printer.
SMS Character counter
The remaining number of bytes (characters) in standard SMS messages (160 bytes) is counted and displayed in the message textbox.
Numbers of contacts in groups
For every group of contacts there is displayed the number of contacts contained in it.
Improved application performance and speed
The optimized software architecture renders a faster speed and a better performance of the application.
Enhanced offline-mode behavior
Improvements have been made in offline-mode – to better support users who are always on the move, by allowing them to better handle their Popfax account without having an active Internet connection.
These are just some of the key features available in Popcompanion 1.7. All iPhone and iPad users are encouraged to test out and try these fax tools on their devices and to evaluate the updated Popcompanion for use both in the work environment and out of the office. To note that an active Popfax account with subscription to a "Send and Receive pack + options" is required in order for some of these features to be available.
The application is now available in the AppStore.