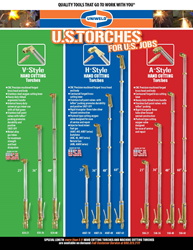 U.S. Torches for U.S. Jobs!
Fort Lauderdale, Florida (PRWEB) June 05, 2014
Uniweld is a global leader in the manufacturing of tools for the oxy/fuel welding and cutting equipment and accessories as well as tools for the HVAC/R, & plumbing industries.
The all new U.S. Torches brochure features a number of popular Uniweld products. The brochure cover features hand & machine cutting torches with a wide range of lengths and styles, all of which can also be found on Uniweld's Website.
The brochure also features several V, H, & A-Style cutting attachments and welding handles. Readers will also find many of Uniweld's quality flashback arrestors on the back cover.