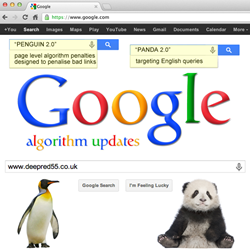 It would seem that this is a fairly robust update including a data refresh as well as an algorithm update.
Preston, UK (PRWEB UK) 5 June 2014
On May 20th, Matt Cutts, Head of Web Spam for Google, announced that the Panda algorithm update was released. When Google makes these kinds of announcements, it is often unclear what the after effects are, but all has been revealed.
Many industries have seen rankings change; some reporting major increases and decreases. When Panda was first introduced, it was aimed at penalising websites with spammy content, and, as such, the newer refresh has delved deeper into those websites that continue to try (and fail!) to outsmart Google.
Once again, the payday loans industry has taken a hit. In June 2013, an industry notorious for websites that fail to meet Google's guidelines, the payday loans industry was hit by its very own algorithm update.
During the round of updates made by Google last month, the payday loans algorithm was also updated. As Google looks to improve their search engine for users, it is likely that other industries will also be placed under scrutiny.
Karl Bantleman, Internet Marketing Director at Deep Red said:
"Given Google has called this 4.0, it would seem that this is a fairly robust update including a data refresh as well as an algorithm update.The importance of keeping your content fresh and unique is more important than ever nowadays and is something that we consistently push to our clients."
DeepRed55 has recently drawn up an infographic of Google's main updates since December 2000. Businesses can use this to correlate any drop in rankings to one of the many Google updates made in the last 14 years.
For further information, please contact Karl Bantleman on 01772 280130 or email karlb(at)deepred55(dot)co(dot)uk.
About DeepRed55: A full service marketing agency with strong creative and digital departments. From branding, logo design and brand positioning to website design and build, SEO and PPC, DeepRed55 can help drive a business and take it to the next level. For more information on the company, visit http://www.deepred55.co.uk.
With strong contacts in a range of industries and clients in both B2C and B2B markets, DeepRed55 is well placed to use their knowledge and experience to help companies reach their goals and targets.