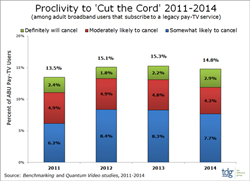 Despite subscribers losses during the last two years and recent quarterly gains, the proclivity to 'cut the cord' has remained pretty much the same across the last four years.
Plano, TX (PRWEB) June 05, 2014
Despite the fact that US incumbent pay-TV operators enjoyed a small net subscriber gain in Q1 2014 -- a reversal of recent quarterly trends -- the reality is that today's pay-TV subscribers are just as inclined to cancel their service today as they have been since 2011. Today, 15% of adult broadband users that subscribe to a legacy cable, satellite, or telco pay-TV service are to varying degrees likely to cancel their service in the next six months. This is virtually unchanged during the last four years, despite the growing use of alternate video sources and the increasing cost of legacy pay-TV services.
"TDG has been researching the 'cord cutting' phenomenon for more than six years, thus giving us a unique historical perspective on the subject," notes Michael Greeson, TDG president and director of research.
TDG attributes recent gains to seasonal additions, intense promotional efforts and special offers, and the continued absence of a full-fledged over-the-top (OTT) competitor.
Regarding the continuing absence of a legitimate OTT TV competitor, Greeson points to several recent examples. "Intel's OnCue solution was essentially pawned off to Verizon, which is rumored to have lost interest in launching its own OTT TV service (Source: Reuters). Google fell flat with its initial OTT TV offering. Sony has verbally capitulated, and other outsiders like Apple have yet to make a serious move. This, in turn, has given incumbents the opportunity to ramp up on-demand and 'TV Everywhere' offerings. A few incumbents such as DirecTV and DISH have publicly expressed an interest in launching their own OTT TV services. Funny that the new boss is looking more like the old boss as incumbents emerge as major movers in the OTT video space."
While new media powerhouses including Amazon, Apple, Google, and Microsoft have been unable to build out a true pay-TV alternative, by 2020 the pay-TV landscape will look very different than it does today, with these four companies accounting for a significant and growing slice of daily video viewing.
TDG has released a number of recent reports that discuss how the shifting TV landscape will evolve over the next 5-6 years, including 2020 Vision: Video Viewing Forecasts by Age and Service. This unique report forecasts how daily video sourcing will move from one defined exclusively by incumbent services to a multi-source , multi-screen paradigm defined by the availability of new content services and the widespread use of multiple viewing platforms. For more information about TDG's primary research or syndicated reports on the future of TV and video access and consumption, please contact sales@tdgresearch.com.