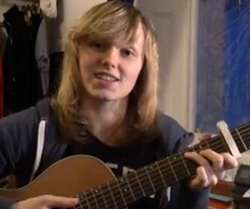 (PRWEB) June 05, 2014
"I use a capo on the 2nd fret," says Norman, "but to be in the same key as the original you do not use a capo." Beth starts off this easy acoustic guitar lesson by briefly performing the song so you can hear what it sounds like. Next Beth goes over the chords that are used as follows: G, D/F# (D over F sharp), D, Em (E minor), C, Am7 (A minor seven), C/B (C over B), Dm (D minor) and A/C# (A over C sharp). Next Beth goes over the three chord progressions for the song as follows; progression one for the verse; G, D/F#, Em, D and C and that the strumming pattern for this is down, down, up for each chord. Chord progression two for the pre chorus is; Am7, C/B, C, C/B, Am7, C/B, C, D and G and the strumming pattern is: down, down, up, up, down, up. Finally the chord progression for the chorus is: G, G/B, C, D (played twice), G, G/B, C, A/C#, Dm, G and D/F# and the strumming pattern is the same as the verse. Complete chord charts as well as guitar TAB's are available at SongTabs.com.
A Capo, short for capotasto, which is Italian for "head of fret board", is a device used on the neck of a fretted instrument to shorten the playable length and raise the pitch.
Michael Jackson was an American singer, song-writer, actor, dancer and philanthropist who is widely known as the "King of Pop" and a global figure for over four decades. He made his musical debut in 1968 as a member of the original Jackson 5 along with his brothers and began a solo career in 1971. In the 1980's Jackson was a dominant figure in the pop music scene. His 1982 album Thriller is the best selling album of all time and is the first artist to have a top 10 single on the Billboard Top 100 in five different decades. Jackson released 10 studio albums and was the recipient of numerous awards including 13 Grammy's.
Beth Norman
Started playing the guitar at the age of 15 and started her first band only after 3 months of playing. She put up her first YouTube tutorial video in 2009 and has gained 40,000 subscribers and over 8 million views and counting.
About SongTabs.com
SongTabs.com is a great online resource for learning to easily play your favorite songs on the guitar. With several great instructors and a constant growing catalog of songs, everyone can learn to play there favorite songs.