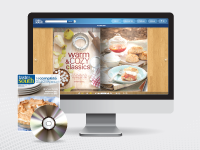 Montreal, Quebec (PRWEB) June 05, 2014
With drops in circulation, reductions in print advertising, and growth of digital channels, magazine publishers are looking for new ways to create new products to recoup some of this lost revenue. Many publishers don't realize that their back-catalog can be a significant source of value.
This is particularly true of publishers that create timeless content that readers can turn to again and again such as recipes, instructions, patterns for sewing or crocheting, photography and recounts of history.
During this informative webinar, Integration New Media will walk publishers through six easy steps on how to transform back issues into a successful DVD archive collection. We'll also demo some of the collections we've built for publishers.
Title: 6 Easy Steps to Create a Profitable Archive Collection
When: Thursday, June 12, 2014
Time: 11:00 a.m. EDT / 8:00 a.m. EDT
Speaker: Andrea Simmons, Director of Marketing & Business Development, INM
To learn more about this webinar, or to register, visit: http://info.inm.com/reach-webinar.
About Reach
Our Reach ePublishing solutions help publishers convert paper-based magazines and journals into engaging web, DVD and USB collections. The Reach family includes products that range from a single issue presented as an interactive flipbook, to a full archive collection with powerful cross-collection search capabilities. Learn more: http://www.inm.com/Reach.
About Integration New Media
Integration New Media (INM) builds engaging digital solutions that deliver results. For more than 25 years, INM has helped companies create enterprise websites and rich web applications, mobile websites and mobile apps, digital publications and digital archives. The company has a strong emphasis on delivering solutions that balance business objectives with software development best practices to exceed user experience requirements. For more information, visit: http://www.INM.com/.