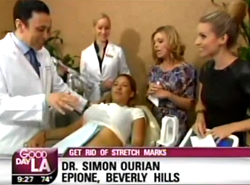 Los Angeles, CA (PRWEB) June 05, 2014
On May 22, 2014, CBS This Morning reported on the fat-busting technology CoolSculpting®, an FDA-approved device that targets unwanted fat with a patented cooling process. CoolSculpting targets fat cells below the skin without harming the surrounding tissue. Using suction and freezing temperatures, the targeted fat cells crystallize and freeze. In the weeks following the treatment these crystallized, frozen fat cells shrink and disappear in a process called apoptosis. The body's natural processes gradually eliminate the dead fat cells. (see: goo.gl/8RaLyN)
"With CoolSculpting we can target and eliminate specific pockets of fat," says Dr. Simon Ourian, Medical Director of Epione Beverly Hills, "and we can do it non-invasively, thereby eliminating the potential complications of surgical procedures, as well as any downtime."
According to the CBS report, CoolSculpting is a non-surgical fat reduction treatment that uses a hand piece to draw up the targeted bulge of fat between two cooling panels. During the treatment the patient feels pressure and a firm pull, this is the suction that ensures the precise delivery of controlled cooling to the treated area. The patient interviewed reported no discomfort, only that the panels felt like a thin sheet of ice. She did not appear to be in any discomfort while responding to the reporter's questions. The patient also reported that she was planning to resume her regular activities immediately after completing the treatment.
"As reported, once the treated fat cells die and are eliminated from the body, they are gone for good," says Dr. Ourian, "but the patient must exercise and maintain a healthy diet to prevent the expansion of other fat cells."
Dr. Ourian has been a pioneer in laser technology and non-invasive aesthetic procedures including Restylane, Juvéderm, Radiesse, Sculptra and CoolSculpting. These treatments are used for the correction or reversal of a variety of conditions such as acne, acne scars, skin discoloration, wrinkles, stretch marks, varicose veins, cellulite, and others. More information about CoolSculpting can be found on Epione's website.