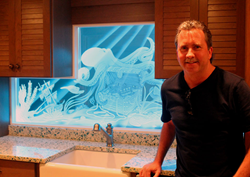 I will definitely be doing this until I retire, Peter Edward Jurgens
Pompano Beach, FL (PRWEB) June 24, 2014
Glass etching artist Peter Edward Jurgens celebrates his 30-year anniversary this summer at Krystal Glass Company. He specializes in LED illuminated carved glass and has created thousands of stunning, custom fine art glass projects in etched and carved glass in his studio in Pompano Beach, Florida since 1984. He has reached the pinnacle of his career with no plans of slowing down.
Pete is best known for the LED illuminated carved and etched glass he creates by hand. He is also an expert with the ever-popular etched and carved glass and mirror. He has a unique style and talent with etched glass that sets him apart from other glass etching artists. His signature style of very detailed shading and varying tones in etched glass artwork make the designs come to life. He has a gift that most people could never learn.
"I will definitely be doing this until I retire," Pete promises. "I moved to Florida just after high school to see how my art skills would translate to glass and the rest is history".
Pete joined Krystal Glass Company http://www.krystalglasscompany.com in Pompano Beach, Florida in 1984 as a glass etching artist and bought the company from its founders in 2002.
"It was a natural evolution for me and for Krystal Glass Company since I had been the lead glass etching artist for so long," Pete recalls.
Of all the custom art glass and mirror that Pete offers, his favorite is multi-color LED illuminated carved and etched glass because it shows off the artwork so much better. When asked if he has a favorite custom glass design among all that he has created in the last 30 years, he doesn't have to think long.
"Yes. I recently did a carved and etched glass design with LED lights around all sides for a couple in Marathon in the Florida Keys. It was a precise fit for the kitchen backsplash area. I worked on several revisions with the client and we both really love the result. The reason it is my favorite is because of the amount of detail in the carved glass areas," Pete said.
The design features a sunken treasure chest at the bottom of the ocean floor spilling out its detailed jewels, crystals and gold coins with a watchful-eyed octopus guarding the top. The sun's rays shine down through the water and illuminate the other fish, sea life, and coral in the custom art glass design.
"This is nothing short of stunning! We absolutely love it," said clients Heidi and Jeff upon seeing it for the first time.
Pete frequently receives compliments and testimonials on his work from happy clients, and he is grateful.
"Our customers have kept us in business since 1980 by allowing us into their private lives, their homes, yachts, and businesses, to create beautiful art glass for them. It's really an honor and pleasure to work with them. Many people in other professions can't say that," Pete said.
Clients are quick to point out how easy and accommodating Pete is to work with. Always focusing on the client's desired outcome for a carved or etched art glass project, he frequently offers several suggestions to achieve the desired results.
Peter Edward Jurgens, president of Krystal Glass Company in Pompano Beach, Florida, is a master glass etching artist with a 30-year history of creating thousands of custom art glass projects by hand in etched glass, carved glass, illuminated glass, painted glass, antique mirror and decorative mirrors. His art glass and mirror grace the luxury homes, yachts and offices of clients in his hometown of South Florida and can be shipped to any location. He is well known for highly detailed etched and carved glass designs rich with multi-shaded areas that he achieves by hand. Most of his commissions come from referrals and repeat clients. Krystal Glass Company has been family owned and operated since 1980.