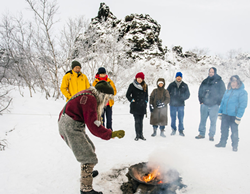 Diehard "Game of Thrones" fans can vacation in the "Land Beyond the Wall" with GreatValueVacations!
Rockville Centre, NY (PRWEB) June 10, 2014
Diehard "Game of Thrones" fans can vacation in the "Land Beyond the Wall" with GreatValueVacations. On this Akureyri Highlights & The Game of Thrones tour, travelers will see the HBO cult classic brought to life with tales of the "Seven Kingdoms" by the local expert who guided the Game of Thrones crew on set during filming in Iceland. This is truly "set-jetting" and its very best.
This 4-night "Twin-City" break to Reykjavik and Akureyri will have fans entering the land of Wildlings and White Walkers! The trip includes time to explore Reykjavik independently before flying to Akureyri – a charming city known as "the Capital of North Iceland." A local artist will lead participants on an Exclusive Art & Design walking tour of Akureyri with insider visits to local artists' workshops and handcraft stores.
Later on, it's time to join local guide Jon Thor Benediktsson where travelers will be taken to the filming locations of the Game of Thrones' famed ice wall itself, and to locations "north of the wall" (largely filmed at the beautiful Lake Myvatn) where the series' primitive "Wildlings" roam. He'll regale guests with tales of the "Seven Kingdoms," as he also guided the Game of Thrones crew on set during filming for the third series.
Highlights:

Visit the areas where Night's Watchmen, including Samwell Tarly and Lord Commander Mormont, are attacked by the White Walkers.
Walk the land that Jon Snow, Ygritte and the Free Folk cross to reach the Wall.
Visit the cave where Jon Snow and Ygritte have their first intimate romantic encounter.
Learn about how the Free Folk, like the ancient Vikings, lived and survived in their harsh environment.
The 4-Night Akureyri Highlights & The Game of Thrones Vacation Package includes:
Round-trip economy class airfare to Reykjavik/Keflavik (KEF)
Round-trip international airport transfers via Flybus Airport Shuttle
Round-trip internal flights between Reykjavik and Akureyri (excluding airport tax*)
2 nights in Reykjavik at the Icelandar Hotel Natura
2 nights in Akureyri at the Icelandar Hotel Akureyri
Daily breakfast
Exclusive Art & Design Tour & Guided City Walk in Akureyri
Full-day guided Game of Thrones Tour
Entrance fee to the Myvatn Nature Baths
Game of Thrones souvenir
This package is priced from $1,763 from New York, $2,130 from Atlanta, $1,681 from Boston, $2,057 from Chicago, $1,980 from Los Angeles, $1,966 from Orlando, $2,010 from San Francisco, and $1,812 from Washington, DC, based on travel on select dates in October 2014. Prices are per person, double occupancy, based on 7-day advance purchase. Rates are slightly lower for travel at other dates in November and December.
Other departure dates and origins are available at slightly higher rates. Prices include round-trip economy class airfare including carrier and government-imposed taxes and fees including the September 11th Security Fee of $2.50 per enplanement originating at a U.S. airport. Fluctuations in exchange rates may affect some taxes or fees.
(Note to Editors: We can provide pricing from the nearest gateway city to you upon request.)
Click the link for additional information on GreatValueVacations' Akureyri Highlights & The Game of Thrones vacation package or call 800-896-4600.
About GreatValueVacations
GreatValueVacations is changing the way consumers travel by creating expertly designed, high-quality, air-inclusive vacations to compelling destinations at affordable prices. With so many online resources to find air, hotels, transportation, and more, consumers can spend many hours doing research trying to put it all together. GreatValueVacations takes the guesswork out of planning the perfect vacation by doing all of the legwork and packaging upscale travel products that have been vetted by destination experts. GreatValueVacations also offers advice and recommendations on what to see and do in each locale, and provides customer support every step of the way. Additionally, GreatValueVacations' state-of-the-art technology offers the ability to book complicated vacations in just a few clicks.
For additional information, visit http://www.GreatValueVacations.com or call 800-896-4600.