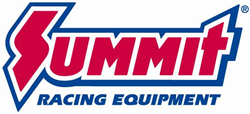 Tallmadge, OH (PRWEB) June 12, 2014
Keep a diesel Super Duty nice and cool with the largest radiator Flex-a-lite has ever built for a diesel pickup. Not only is the aluminum radiator ginormous—increasing coolant capacity by 16 percent compared to the OEM radiator—it is paired with the strongest electric fan setup Flex-a-lite has available. The dual 15 inch electric fans move up to 6,800 cfm of airflow. The means the system provides better cooling, quicker engine warmup, cooler air conditioning output, improved horsepower, and better fuel economy.
The Direct-Fit Radiator and Electric Fan System replaces the stock belt-driven fan and shroud, eliminating more than 20 pounds of weight from the engine. The double-row core is hand welded to the side tanks to withstand pressure buildup that can blow out the stock radiator's tanks. Those side tanks have Flex-a-lite's patented "T" channels that act as heat sinks to dissipate heat more efficiently. The entire core surface of the radiator is covered with a sealed shroud design for maximum efficiency.
The electric fans are operated by Flex-a-lite's Variable Speed Controller that starts the fans at 60 percent power and increases fan speed as the temperature rises. The temperature at which the fans turn on can be adjusted between approximately 160 and 240 degrees Fahrenheit. The controller also includes terminals to activate the fans when the vehicle air conditioning is turned on plus a cockpit-mounted manual override control.
The radiator and fan system also has Flex-a-lite's exclusive clutch-fan emulator that plugs into the existing fan control system. This emulator sends feedback to the truck's ECM to help eliminate potential check-engine codes.
Summit Racing also offers a direct-fit Flex-a-lite Translife cooler that hard-mounts to the radiator without having to go through the radiator core. The Flex-a-lite radiator is also available without the electric fans if you wish to retain the factory clutch fan and shroud. Some modifications will be necessary for proper fit. The Flex-a-lite dual electric fan system separately to fit the factory radiator.
This YouTube video details the installation of the Flex-a-lite Direct Fit Radiator and Electric Fan System.
SEE THE FLEX-A-LITE DIRECT-FIT RADIATOR AND ELECTRIC FAN SYSTEM AT SUMMIT RACING
Summit Racing Equipment
1-800-230-3030
http://www.SummitRacing.com