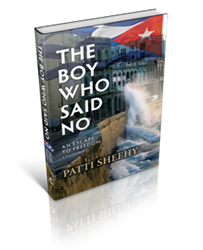 As I was reading The Boy Who Said No: An Escape to Freedom, I had to reassure myself repeatedly that this was a true story, that the main character was ultimately successful in escaping Cuba and lived to tell the tale. —The Free Lance Star
Longboat Key, Florida (PRWEB) June 06, 2014
Patti Sheehy chronicles the life threatening challenges faced by Frank Mederos in his escape from Castro's Cuba to freedom in America in her 2013 novel, THE BOY WHO SAID NO (ISBN: 978-1-60809-080-8), winner of the gold medal for best new voice, awarded by IBPA's Benjamin Franklin Awards for literature. This critically acclaimed novel is a story of love, loss, and extreme bravery under fire. The sequel, STALKED: THE BOY WHO SAID NO (ISBN: 978-1-60809-125-6) will be release this September from Oceanview Publishing.
As a boy Frank Mederos's grandfather teaches him to fish, to navigate the seas, and to think for himself, much needed skills under the new Castro regime. When Frank is drafted into the army, he is soon promoted to the Special Forces, where he is privy to top military secrets. But young Frank has no sympathy for Fidel. He thirsts for freedom and longs to join his girlfriend who has left Cuba for America.
Frank yearns to defect, but his timing couldn't be worse. After two unsuccessful escape attempts, Frank learns that the departure of the next available boat conflicts with upcoming military exercises. If he stays, he will miss the boat. If he doesn't, he will be the object of a massive manhunt.
Problems abound: How will Frank escape the army base without being seen? Where will he hide until the boat comes? How can he outwit his commanding officer? And how can he elude hundreds of soldiers ordered to bring him back "dead or alive"?
Frank's true story, is a historical fiction thriller that will keep you on the edge of your seat until the last page is turned.
"This mix of thriller and history offers a fascinating but depressing look at life under Castro's totalitarian regime... a tense and exhilarating read."
"The Boy Who Said No is a powerful fictionalized version of a true story and one that stays with the reader for a long time."
"At times heartbreaking and often spellbinding, The Boy Who Said No: An Escape to Freedom by Patti Sheehy is an intense story. Based on true events, it shines a bright light on Cuba's regime change and the effect it had on the people."
THE BOY WHO SAID NO by Patti Sheehy is available in hardcover, all digital/eBook formats, and audiobook through all fine booksellers and book distributors.