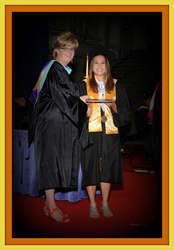 Beyond any doubt, this is a very elite class of graduates who have a head start on realizing goals and accomplishments that the average person works a lifetime to achieve.
Houston, TX (PRWEB) June 05, 2014
Earning their high school diplomas as part of the first ever graduating class of Texas Connections Academy, 144 students were recognized during the school's 2014 commencement ceremony at the Joe K. Butler Stadium on Sunday. Texas Connections Academy, a tuition-free online public school for students in grade 3–12, expanded to include grade 12 in the 2013-14 school year.
Sixty-four of the graduating seniors attended Sunday's ceremony in person and were joined by family, friends, teachers and school representatives as they received their diplomas, officially marking the end of their K–12 education.
"Beyond any doubt, this is a very elite class of graduates who have a headstart on realizing goals and accomplishments that the average person works a lifetime to achieve. This class has a head start on their counterparts because they are mature in seeking to be something bigger than themselves," said Lea Ann Lockard, Texas Connections Academy executive director and the recent recipient of a United States Distance Learning Association Leadership Award, as she addressed the graduating class at Sunday's ceremony.
"These students fearlessly and successfully completed their education in an online, home-based setting and raised the bar for virtual schools in Texas. Celebrating this first class has been a true joy and I cannot wait for what the future holds," Lockard added.
Texas Connections Academy's Class of 2014 includes students from over 90 different school districts throughout the state of Texas. Combined, the school's graduates have reported receiving more than $1 million dollars in scholarships. Nearly 80 percent of Texas Connections Academy graduates have plans to attend two- or four-year colleges and universities including top schools such as University of Alabama, University of Florida, Virginia Tech and Texas A&M.
Texas Connections Academy Class of 2014 Valedictorian Emma Villarreal addressed her classmates at Sunday's graduation ceremony. Emma, a diver who competes in national and international competitions, has been awarded a full-ride scholarship to Virginia Tech where she plans to study biology and transition into the University's marine biology program. Although Emma lives in Waco, she was able to train two hours away in Austin during the school year without missing out on a high-quality education because of the flexibility of online learning.
"Texas Connections Academy allowed me to take AP classes, travel two hours away from home for diving practice every day, six days a week, and participate in both national and international competitions in the middle of the school year," Villarreal said, "The school also prepared me academically for life after high school."
Among the 2014 graduates, 11 achieved National Honor Society status and 15 graduated with honors. The graduates included athletes who competed at national and world levels in sports such as gymnastics, diving, tennis, swimming and fencing. Additionally, classmates have shown exemplary leadership with one student even testifying before Congress at a U.S. Senate Committee last year.
Texas Connections Academy has the highest accountability rating of the TxVSN Texas Online Schools. The school is a partnership with the Houston ISD to provide a high quality and rigorous virtual education for grades 3-12. Texas Connections Academy delivers top quality, personalized education for students that combines certified teachers, a proven curriculum, and community experiences to create a supportive and successful environment for children who want an individualized approach to education.
Enrollment for the 2014-2015 school year is currently underway and information sessions and events for interested families to learn more are taking place across the state.
About Texas Connections Academy
Texas Connections Academy is a Texas Online School that offers 100% virtual instruction to public school students across Texas in grades 3-12 who are not physically present on a campus during instruction. The TxVSN OLS program is authorized by Texas Education Code (TEC) Chapter 30A, administered through TEA, and was initially known as the Electronic Course Pilot (eCP). Texas Connections Academy first opened in December 2008 with a regulatory cap of 100 students. For the 2013-14 school year, the school will serve 4,000 students. Texas Connections Academy met all state standards in 2013 (Texas accountability rating: Met Standard) and earned a Distinction in English Language Arts/Reading. Texas Connections Academy's state accountability rating is the highest TxVSN Texas Online School. Connections Education is in partnership with Houston ISD to provide high quality and rigorous virtual instruction through Texas Connections Academy. Students have the opportunity to take part in national clubs and activities with other Connections Academy students across the country as well as attend in-person activities within Texas.