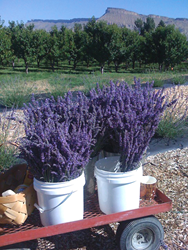 This year's annual Lavender Festival will take place 7/11-13 near Grand Junction, Colorado.
Grand Junction, Colo. (PRWEB) June 07, 2014
The 4th Annual Lavender Festival will take place July 11-13, 2014 in the western Colorado town of Palisade, a short drive from Grand Junction.
Hosted by the Lavender Association of Western Colorado, the event will include a full-day guided motor coach tour of lavender farms on Friday to visit the North Fork Valley as well as the Palisade area, and new this year is a half-day Grand Valley Lavender Garden Tour. The Saturday Festival in the Park is the highlight and will feature workshops, seminars and question-and-answer sessions on topics ranging from starting a lavender farm to lavender growing tips, history, uses and cooking.
Attendees can take part in a hands-on demonstration in lavender aromatherapy, essential oil usage and crafts. The event also will include live entertainment, music, food and retail vendors with lavender-inspired merchandise.
The climate in western Colorado provides optimal growing conditions for lavender, according to Susan Metzger with the Lavender Association of Western Colorado. Two types of lavender – English lavender and French lavender – grow particularly well in the state and are widely used in a wide variety of culinary, medicinal and aromatherapy.
Tickets for the event are available at http://www.coloradolavender.org.

Friday full-day guided motor coach farm tour tickets
Friday half-day Grand Valley lavender garden tour and xeriscaping with lavender
Saturday Festival includes demonstrations, seminars, workshops, horse carriage rides and art show at Blue Big
Saturday evening Lavender Fest Gala Dinner "Spike it with Lavender"
Sunday free lavender farm tours on the Western Slope from Paonia to Furita to Palisade.
Palisade is located just east of Grand Junction in western Colorado, along the I-70 corridor. Grand Junction is situated 244 miles from Denver and 284 miles from Salt Lake City.
About Grand Junction (http://www.visitgrandjunction.com)
Nestled near 11,000-foot Grand Mesa and the 7,500-foot Book Cliffs, Grand Junction is the largest city in western Colorado. At an altitude of 4,586 feet, warm summers and moderate spring, fall and winter seasons allow for year-round golf, hiking and biking.