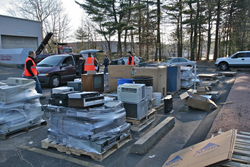 Solutions for a healthy planet!
Mansfield, Massachusetts (PRWEB) June 05, 2014
It is well known that one of the fastest growing segments of the recycling industry is associated with electronic scrap, or "E-Waste." This includes computers, tablets, monitors, TVs, power supplies, telephones, (both land based & mobile), as well as the miscellaneous items associated with these components.
Miller Recycling Corporation has been hosting E-Waste recycling events for over 5 years. Randy Miller, Company president, states; "Our Recycling Events helps benefit the environment and the economy, by reducing hazardous material ending up in landfills - and creating more jobs."
Join Miller Recycling on their next E-Waste Event on Saturday June 7th, from 8:00am -2:00pm at their 73 Plymouth Street Mansfield, MA facility.
Everyone is welcome, including residential and commercial generators regardless of location. The company also provides ongoing pickup and transportation for large volumes clients.
The following items will be accepted at no charge:
Computers, tablets, laptops, power supplies, telephones, fax machines, printers, keyboards, cell phones, gaming systems, as well as all types of house hold appliances. (Washers, dryers, stoves, etc.)
The following items will be taken for a fee:
TV's/Monitors (any Size) - $8.00 each
Wood TV's (any size) - $15.00 each
Freon units (AC's/Refrigerators) -$ 5.00 each
Contact Maria at 1-800-783-6766, ext. 111 to schedule large drop offs and pickups. Information is also available via email at info(at)millerrecycling(dot)com.
Miller Recycling conforms to strict guidelines and partners with only fully licensed, permitted, and reputable companies that adhere to strict environmental policies, not only at their location but also with any downstream vendors and consumers. Miller Recycling also adheres to the "NO EXPORT" policy for intact computers, monitors, TV's and components.
About Miller Recycling Corporation
Operating since 1940, "Frank Miller & Son" now Miller Recycling Corporation is a fourth generation company with the experience required to assist with all electronics, paper, plastics, and metals recycling requirements.Northeast Data Destruction, our NAID "AAA" Certified confidential shredding division, will securely process all your sensitive documents, files, media, hard drives, tapes, CD's, off spec products and storage components.