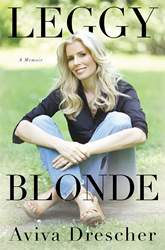 CEO of Simply G Media GJ Reynolds said, "Drescher has been able to show her fans the true Drescher by getting out of her comfort zone. I too had to do that when I wrote my book."
New York, NY (PRWEB) June 06, 2014
Neil Haley, The Total Tutor host of the Total Celebrity Show, interviewed Aviva Drescher to find out about her memoir, Leggy Blonde, her latest product—all natural anti-anxiety supplement called "Tranquil Day,"—and her current relationship with her castmates on the "Real Housewives of New York City (RHONY)."
According to Drescher, who lost her left leg in a farm accident when she was 6 years old, she has never let this tragedy define who she is. She worked hard to receive a Bachelors of Arts degree from Vassar College, a Masters degree in French from New York University, and a JD from The Benjamin N. Cardozo School of Law. She is the National Spokesperson for One Step Ahead and CAF organizations helping amputees, as well as an Advisory Board Member of Cancer Schmancer/Trash Cancer and for her work with the Live4Life Foundation.
Now she is the first and only New York City born and bred "Housewife" in the history of Bravo's hit show.
"It is a whirlwind, always working to promote the show," Drescher said, when discussing how crazy her life has been while being on the RHONY. "You have responded to bloggers, the media, and your fans."
In the interview, Drescher also talked about how difficult and challenging it was to write her memoir, Leggy Blonde, which was released earlier this year. In the book she shares her mistakes, hoping readers walk away with a sense of hope. According to Drescher, it has been received very well.
Drescher also discussed the challenges she has faced in her life, including an alcoholic mom who passed away due to her alcoholism, her own divorce from her first husband, Harry, and her marriage to Reed. She describes how difficult it is to manage a blended family.
Drescher says it is interesting to watch and see how people perceive her. "There are two different of Dreschers," she said. "One from the show and from the book."
The way the producers are able to make the housewives interesting they try to tap into dramatic part of the housewives lives. Some of her cast mates, like Carol and Heather, are handling the show very well. According to Drescher, they take things a little too seriously.
"My cousin is Fran Drescher," she said. "Her ex-husband, Peter Jacobson, who produced the Nanny said, 'this is show business. It is a TV show. It is a show for entertainment.'"
Drescher revealed that she felt remorseful about the time when she called Ramona and Sonja, two of her cast mates, "white trash."
"It made great television," Drescher said. "It is not really something that I would do in my real life."
CEO of Simply G Media GJ Reynolds said, "Drescher has been able to show her fans the true Drescher by being out of her comfort zone. I too had to do this when I wrote my book."
You can listen to the radio interview now by going to http://simplyg.com/media/simplyg-radio/.