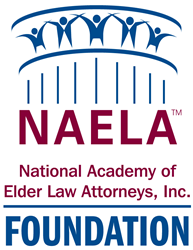 We are thrilled to support CMA in ensuring that older persons and those with disabilities are not systematically denied for legitimate Medicare coverage claims.
Washington, D.C. (PRWEB) June 06, 2014
The NAELA Foundation awarded $25,000 to the Center for Medicare Advocacy (CMA) to support litigation to prevent erroneous denial of Medicare coverage, provide access for beneficiaries to an effective appeals system and, therefore, access to Medicare coverage and necessary health care.
Thousands of Medicare beneficiaries lose access to the coverage they need, including home health care, due to adverse Medicare coverage determinations for "medically necessary" and "reasonable services" at the first two levels of administrative review. For example, homebound individuals with brittle diabetes or extremely fluctuating blood pressure lose home health nursing and home health aides when they are denied Medicare. The Centers for Medicare & Medicaid Services' own data confirms that denials are issued at these review levels in approximately 98 percent of all cases.
CMA claims that this is a violation of Medicare statute and the Due Process Clause of the Fifth Amendment because beneficiaries must wait at least two years to obtain an administrative law judge hearing. The effect of this process is discouraging or is precluding beneficiaries from obtaining faster, fairer review of claims.
"We are truly appreciative of this financial support and vote of confidence in the Center's work. It is very difficult to secure funding for strategic litigation. The NAELA Foundation is doing a great service by offering such opportunities — and CMA is honored to have received this grant," said CMA Executive Director and NAELA Past President Judith Stein, Esq. She is also the author of NAELA's latest NAELA: Eye on Elder and Special Needs Issues newsletter entitled "Observation Stays in the Hospital: The Impact on Medicare Beneficiaries."
"We are thrilled to support CMA in ensuring that older persons and those with disabilities are not systematically denied for legitimate Medicare coverage claims. This approach has led to thousands of older persons and people with disabilities losing access to Medicare coverage, necessary care, and due process," said NAELA Foundation Chair Vincent J. Russo, CELA, CAP, of Westbury, N.Y. Russo is also a founding NAELA member, Fellow, and Past President.
About the NAELA Foundation
The mission of the NAELA Foundation is to promote the goals of NAELA and the Elder and Special Needs Law profession through scholarships, advocacy, research, and education. The Foundation Litigation Advocacy Fund's objective is to establish good legal precedent in matters of critical importance to older Americans and people with special needs. Through the Cohn Sisters' Scholarships for Patient Advocacy, the Foundation awards scholarships to NAELA members in financial need so that they can attend national education events.
About NAELA
Members of the National Academy of Elder Law Attorneys (NAELA) are attorneys who are experienced and trained in working with the legal problems of aging Americans and individuals of all ages with disabilities. Established in 1987, NAELA is a non-profit association that assists lawyers, bar organizations, and others. The mission of NAELA is to establish NAELA members as the premier providers of legal advocacy, guidance, and services to enhance the lives of people with special needs and people as they age. NAELA currently has members across the United States, Canada, Australia, and the United Kingdom. For more information, visit NAELA.org.
###