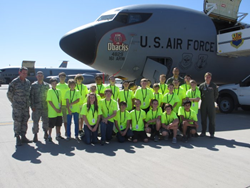 Scottsdale, AZ (PRWEB) June 06, 2014
The Mesa Public Schools Aviation Camp, sponsored by Boeing, is a two week long program designed for students entering 7th or 8th grade who are interested in aviation. Dr. Shufeldt will fly into Falcon Field Airport from the Scottsdale Airpark where he offices MeMD and Outliers Publishing, as well as his hangars which house a T-28 Fighter Plane and Mustang Cessna in addition to his R66 helicopter.
Due to a generous sponsorship from a private donor, each camp participant will recieve a copy of Dr. Shufeldt's student leadership book, "Ingredients of Outliers: Achieving Your Most Amazing Future". Dr. Shufeldt's goal in writing "Ingredients of Young Outliers" was to serve as a surrogate mentor to young people, incorporating his most valuable lessons through his amusing misadventures, while also sharing the less highlighted stories of notable individuals who faced challenges on their way to success. Dr. Shufeldt will discuss with camp participants how he became involved in aviation as an ER physician and business entrepreneur.
About John Shufeldt:
John Shufeldt is a serial student, an indefatigable change agent and a multidisciplinary entrepreneur. After earning his BA from Drake University in 1982 and his MD from the University of Health Sciences and the Chicago Medical School in 1986, John completed his emergency medicine residency at Christ Hospital and Medical Center in Oak Lawn, Ill. in 1989. He spent his final year at the hospital as Chief Resident before returning to school to earn his MBA in 1995 from Arizona State University. In order to expand his knowledge, John studied and earned his Juris Doctorate in 2005 from ASU. Currently, John is the CEO of MeMD, an online urgent care, and the owner of Shufeldt Consulting, which provides consulting services for urgent cares and medical office practices. He has founded many other health and non-health care businesses and continues to practice emergency medicine and law. John is also an adjunct professor at the Sandra Day O'Connor College of Law where he teaches a clinic on Health Law Entrepreneurism.
About Ingredients of Young Outliers:
Ingredients of Young Outliers: Achieving Your Most Amazing Future is a 165-page life guide geared toward young adults who want to alter their own start and explore life's many opportunities. With nearly instant access to information and opportunities seemingly everywhere, finding one's passion, and determining the best future is becoming increasingly difficult. The question looms in every young adult's mind- "what major do I choose" or "which career should I pursue." In Ingredients of Young Outliers: Achieving Your Most Amazing Future, author John Shufeldt explores the traits of extraordinary individuals identified over nearly three decades of his professional career. While guiding young readers through these characteristics, he inspires them to step outside of their comfort zones and join the ranks of the outliers. His approachable and humorous style applied to very personal and inspirational stories, are geared toward helping young adults navigate their future opportunities and goals.