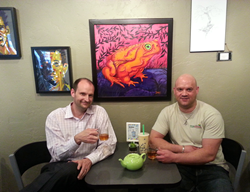 The ability to interact with our customers and receive instant feedback is so important to us.
Salt Lake City, Utah (PRWEB) June 05, 2014
The Emperor's Tea® recently opened its first physical location and the timing is perfect for a Grand Opening Celebration with June being National Iced Tea Month. The event will take place at TEAramisu by The Emperor's Tea® on Saturday, June 21, 2014 at 929 E. 4500 S. in Millcreek Utah. Activities will begin with a ribbon cutting ceremony by the East Valley Chamber of Commerce promptly at 12:00 p.m. and include live music, entertainers The BBoy Federation, and giveaways. To celebrate National Iced Tea Month, TEAramisu will give one free cup of iced tea to everyone who stops by. Attendees will find five varieties of free iced tea offered on the front lawn of TEAramisu as well as many more items for sale inside. Additional sales and promotions throughout the month of June will lead up to the Grand Opening.
The Emperor's Tea® currently offers more than 200 premium loose leaf teas, many of which are sold by the bag at TEAramisu. Fifty of these teas are served by the cup or pot and TEAramisu also includes tea accessories, smoothies, boba tea, San Pellegrino, handmade Italian desserts and all-natural body care products as part of their product line. "We've had great success online throughout the years, but we felt something was missing," said CEO M.C. Rivetti. "The ability to interact with our customers and receive instant feedback is so important to us. We love seeing our customers' faces when they find a tea they fall in love with."
TEAramisu boasts a beautiful and relaxing atmosphere with an open seating area, teashop, and 3 private tearooms. Each tearoom has a different theme and is named for its distinctive décor. Rooms include the Living Room, Zen Room, and Emperor's Room. "We wanted to create a unique space where customers could relax and defuse," said Vice President Jason Woodland. "They can meet with friends and family, conduct business, study, or simply smooth out with a cup of our famous Calmatea." TEAramisu offers free Wi-Fi and plenty of parking to patrons of the teahouse. A local artists wall presents diverse pieces from Utah artists and musicians are invited to play on select Friday evenings. Store hours are Mon – Sat, 10:00 am - 9:00 pm.; closed Sunday.
About The Emperor's Tea®
The Emperor's Tea® is a local company run by entrepreneurs: M.C. Rivetti and Jason Woodland. Founded in 1999 by Rivetti, the company boasts an extensive history of research and product development. The Emperor's Tea® is a direct grower of Camellia sinensis, the plant that produces tea leaves, as well as many other plants that are incorporated into its teas. The result is a high level of quality control over the end product and a large selection of unique and flavorful teas. Products from The ® Tea are all-natural and never tested on animals. For more information on The Emperor's Tea® and TEAramisu, visit http://theemperorstea.com/ or call 801.590.8247.
Contact name: Kate Conrow
TEAramisu by The Emperor's Tea®
Phone: 801-590-8247
Email: Kate(at)theemperorstea(dot)com
# # #