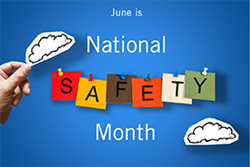 We believe it is important to not only bring awareness, but to recognize those organizations that have best-in-class safety practices.-Pat Cunningham, MS
Salt Lake City, UT (PRWEB) June 06, 2014
June is national safety month, a month dedicated to hazard prevention and safety. To commemorate the occasion and bring awareness, supply chain assessment and contractor management solutions expert, BROWZ is thanking employers for their commitment to workplace health and safety with a short video. While the focus of the month is not specific to organizational safety, BROWZ leadership recognizes a growing number of organizations committed to improved environmental health and safety practices and global citizenship.
BROWZ Safety Director, Pat Cunningham said, "As an organization focused on improving the quality of the workplace, we believe it is important to not only bring awareness, but recognize those organizations that have best-in-class safety practices. There is always room for improvement, but we continue to see organizations invest in safety. These companies recognize the value of human life. We are grateful to be associated with so many leading organizations that not only have sound policies, but that manage and encourage their supply chain to do the same."
To further this message and bring awareness, BROWZ has produced a short video dedicated to National Safety Month.
According to Cunningham, "BROWZ improves organizational safety through supply chain assessment and contractor prequalification, ensuring that onsite contractors and suppliers uphold the same high standards as their employers. As a part of this service BROWZ offers solutions which include contractor prequalification, online assessments, employee-level management, as well as safety program and onsite auditing."
To learn more about BROWZ visit http://www.browz.com.
---
ABOUT BROWZ LLC: BROWZ is the leading solution for comprehensive supply chain risk mitigation. Its fully configurable solution simplifies the exchange, verification, and maintenance of critical data between clients and their supply chain, while adapting to the clients unique business needs. Delivered as a software as a service (SaaS) solution, BROWZ functions as a central, web-based data repository for all supply chain prequalification and compliance information and is available 24/7 and in multiple languages anywhere around the world. Through a combination of compliance expertise, technology, and service, BROWZ addresses supply chain compliance needs related to insurance and risk, environmental health & safety, corporate social responsibility, financial stability, supplier demographics, employee level management, security, and much more.