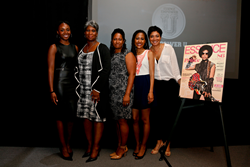 New Orleans, LA (PRWEB) June 06, 2014
ESSENCE recently partnered with the City of New Orleans Mayor's Office to present an exclusive first look at Empower U – a free workshop series that will make its debut at the 20th anniversary of the ESSENCE Festival. Held on Wednesday, May 28th, at the historic Basin St. Station in front of an intimate crowd of 75 people, this exclusive event featured guest speaker Kim M. Boyle, partner at Phelps Dunbar LLP, who spoke on the topic of "Money & Power". She later engaged in a Q & A session with ESSENCE News Editor Lauren Williams and the audience.
Held during the ESSENCE Empowerment Experience at the annual festival July 3-6, the Empower U workshop series is designed to cover every aspect of life from love and relationships to technology and finance. The leaders bringing their wisdom to the Empower U classroom include: Steve Harvey (Act Like A Success); Melinda Emerson(Going From Employee to Entrepreneur); Sarah Jakes (Learning from Love Mistakes); Marc Morial (Career Connections) and others.
Last year, the ESSENCE Festival hosted more than 543,000 attendees over 4 days for entertainment, empowerment, and cultural experiences during the day and the world's best performers each night. As one of this year's many daytime offerings, the ESSENCE Empowerment Experience will feature world-renowned speakers and influencers such as: Steve Harvey, Rev. Al Sharpton, Bishop T.D. Jakes, Alicia Keys and others. This year's headliners include: Prince, Mary J. Blige, Lionel Richie, Nas, Jill Scott, Erykah Badu, Ledisi, Charlie Wilson. Throughout the festival weekend, more than 70 artists and 100 speakers will captivate audiences across 20 stages to mark the 20th anniversary.
For more information on the 2014 ESSENCE Festival, visit ESSENCE Festival. Become a fan on Facebook and follow the Festival conversation on Twitter #EssenceFest.
Photo Caption: (left to right) Lauren Williams, ESSENCE News Editor; Kim M. Boyle, Partner, Phelps Dunbar LLP; Judy Reese Morse, Deputy Mayor and Chief of Staff, City of New Orleans; Dawnie Walton, ESSENCE Deputy Managing Editor; and Glenda English, President and Creative Director, GMc+Company Advertising, Inc. (Photo, Derick Hingle Photography)
Contact:
Sheila Harris, ESSENCE
212-522-1089
sharris(at)essence(dot)com
Glenda English, GMc+Co. Advertising
(504) 616-1398
glenda(at)gmcadvertising(dot)com
###