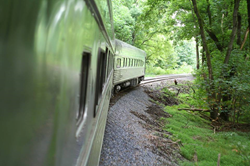 Many of the products are West Virginia-made.
Petersburg, WV (PRWEB) June 09, 2014
The Grant County Convention and Visitors Bureau is pleased to announce the annual Summertime in the Mountains Dinner Train, to be held Saturday, July 19, 2014. Continuing the tradition of classical train dining, the West Virginia Food & Wine Dinner Train offers an elegant dining experience while making a two-and-a-half hour ride through the breathtaking mountains of Grant County, winding along the South Branch of the Potomac River.
Festivities begin at 3 pm at the South Side Depot, located at 126 S Main Street, Petersburg, WV, with a wine tasting featuring West Virginia made wines including West-Whitehill Wine, from Moorefield, and Lamberts Vintage Wine, from Weston.
The train will board at 5 pm.
Once aboard, guests are served dinner. The menu includes a traditional cheese and meat platter, salsas, dips, chips, brisket, shrimp, chicken and meatballs. Dessert options include a choice of cheesecake with pecan pie jelly, turtle cake or chocolate covered strawberries for desert. Many of the products are West Virginia-made.
The Summertime in the Mountains Dinner Train is just one of a few train rides that that Grant County offers. Others include the "Valentine Express Dinner Train" in February, a romantic Valentine-themed dinner train, and the "Autumn Splendor Dinner Train" in October, where guests are treated to scenic views of fall foliage. The "Snowflake Express" with Santa in December delights children during the holidays.
Tickets are $60 a piece and include the complimentary West Virginia wine and food tasting, train ride, and dinner. Reservations are required. Adults only, please.
For more information about the Summertime in the Mountains Dinner Train, please visit http://www.southsidedepot.com or call 304.257.9264.
About Grant County, West Virginia:
Recreational opportunities abound in Grant County, known as one of the most beautiful counties in West Virginia. Hiking and mountain biking riding are perfect ways to experience the scenic, mountain views at Dolly and North Fork Mountain Trail. Other attractions include Smoke Hole Caverns, Fort Mulligan and the many fairs, festivals and events throughout the year. Home to the special golden trout, we attract anglers from all over the county.
Start planning your mountain getaway today. Stay in one of our many hotels, motels or luxurious cabins, and visit http://www.GrantCountyWVA.com or call the Grant County Convention and Visitors Bureau at 304.257.9266.